In choosing the best flower arrangements, factors like type, variety, arrangement, and size matters the most to find the best fit. Good thing, different flowers hold a certain symbolism that could help you pick the exact type for that special day. Take for example pink tulips that symbolizes caring, good wishes, friendship, joyful occasions, confidence
Now, this is just one example. If you want to know more about appropriate flowers for anniversaries, birthdays or funerals, below is a list of experts in flower arrangement in Cape Town.
1. FLORA NICHE
Flowers can provide some comfort to people who are grieving, or joy to people who are in love. With Flora Niche you are in safe hands if you plan to have a flower arrangement delivered to your loved ones.
This company has been in the flower industry for more than 38 years already. That is why it is the most trusted online florist for your flower delivery needs. They are always on top of flower delivery for their customers in Cape Town, may it be for a same day delivery or not.
We are amazed by their transparency. They have placed their delivery rules on their website as a way of ensuring that there is no misunderstanding for their customers.
Their wide range of flower arrangements are worth paying for. These arrangements are top notch and are being done by their florists with passion and care.
WHAT PEOPLE LIKE
BEAUTIFUL ARRANGEMENTS:

We are impressed on how their florists passionately arrange these flowers depending on the occasion that you need them for.

PROMPT DELIVERY & TRANSPARENCY: They never fail to deliver the flowers on time and if there will be a hiccup on your order, they will inform you right off the bat.
ON-SITE REVIEWS: You can feel the love and care on the testimonials that was left by their customers on how great they are in what they do.
PRODUCTS
ROSES/ROMANCE:

From R 425.00

BIRTHDAY: From R 395.00
SYMPATHY: From R 550.00
DELIVERY AND PAYMENT
Beyond 13h00, it is still possible for a same day delivery, but they will let you know the status of it if it can be done.

Orders by 12h00 on a Saturday for same-day deliveries.
They deliver daily during office hours and on Saturdays.
Some deliveries only take place in the afternoon. Please be patient.
For Sunday & Public Holiday Delivery, Remote and/or outback areas and Nobody home at time of delivery, recipient will be contacted to make suitable delivery arrangements and if changes are needed to be done with your order due to the availability of the flowers.
They accept the following payment methods upon ordering online: MasterCard, Visa, PayPal, and Ozow.
2. FABULOUS FLOWERS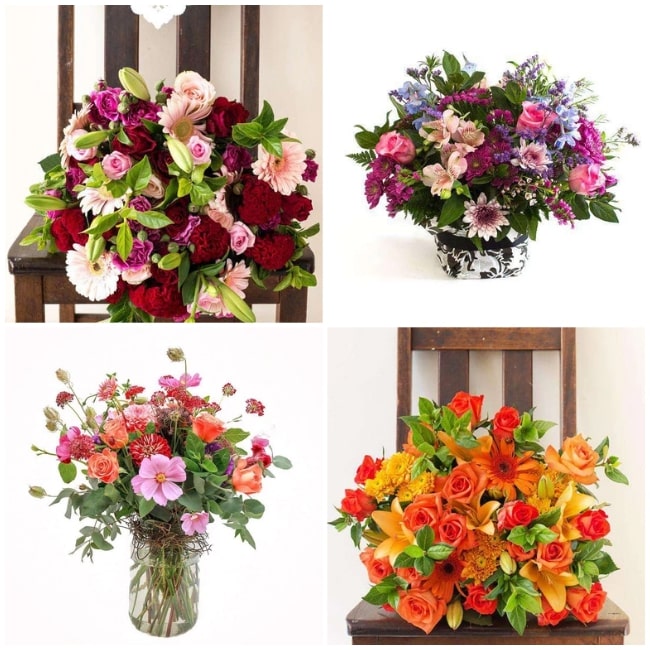 Fabulous Flowers will not name itself such if they do not provide truly fabulous and fresh flowers. The shop is applauded for their stunning flower arrangements. These are created by their wonderful team composed of different professional florists committed to make the lives of their beloved clients as lovely and colorful as their flower products.
WHAT PEOPLE LIKE
SEAMLESS TRANSACTION. Fabulous Flowers may have one of the cleanest web designs that we've seen so far. A new client can easily navigate the site and quickly choose the best flower to buy. From picking to payment, everything's clear-cut!
AFFORDABLE. Quality flowers with super affordable prices. What more can we say? This company prides itself for being able to provide cheap flowers that never compromises quality.
PRODUCTS
Arrangements – R550 to R1300
Bouquets – R345 to R3000
DELIVERY AND PAYMENT
Delivery runs 6 days a week.
3. STALK OF THE TOWN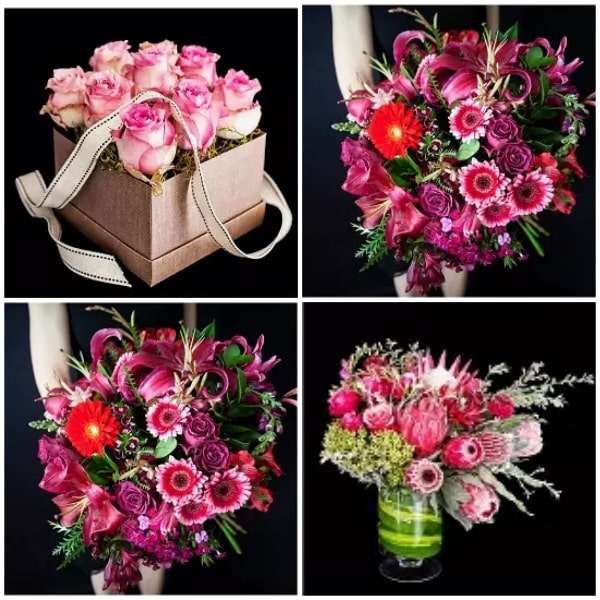 Stalk of the Town really is the talk of the town when it comes to premium quality of flower arrangements. The combination of colors, style, texture, and design are really applauded by their clients who also keep on coming back to them for more floral arrangements. The shop always prioritizes the satisfaction of their clients that is why they make sure that they get what they pay for.
| | |
| --- | --- |
| SPECIALTY | Modern arrangements |
| SELECTION SIZE | Medium |
| STARTING PRICE | Starts at R380 |
| DELIVERY FEE | Calculated at checkout |
| WEBSITE | http://www.stalkofthetown.com/ |
| SOCIAL MEDIA | IG:@stalkflowers |
| CONTACT DETAILS | 021 422 3149 |
WHAT PEOPLE LIKE
STUNNING HAND BOUQUETS. The whole flower collection is flat-out eye-catching. With great designs coming from class and modern styles, you'd never run out of choices.
RUSTIC WRAPPINGS. Many designs at the Stalk of the Town is finished up with this rustic presentation that adds charm to the whole arrangement.
PRODUCTS
Arrangements – R380 To R700
DELIVERY AND PAYMENT
Major credit and debit cards
4. FLOWERS ATLANTIC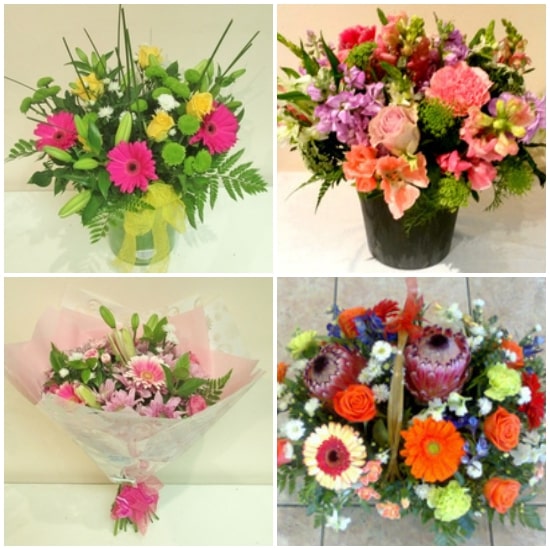 Flowers Atlantic believes that flowers carry messages that a mouth cannot speak. With this in mind, they strive to create amazing flower arrangements that will help their clients pass the message to the recipient. Using flowers as medium can be really romantic and even more beautiful than what words could say.
| | |
| --- | --- |
| SPECIALTY | Mixed bouquets |
| SELECTION SIZE | Large |
| STARTING PRICE | Starts at R300 |
| DELIVERY FEE | Calculated at checkout |
| WEBSITE | http://flowersatlantic.co.za/ |
| SOCIAL MEDIA | |
| CONTACT DETAILS | (021)552 5209 |
WHAT PEOPLE LIKE
VAST COLLECTION OF FLOWERS. Their exquisite collection of flowers varies from budget-friendly to luxurious types. They have flowers for every occasion and everyone!
CARE INSTRUCTIONS. If you have some queries on how to properly take care of your purchased flowers, the shop is kind enough to give you some tips so you will get the most out of your buys.
PRODUCTS
Flower Baskets – R450 to R500
Flower Vase – R300 to R550
DELIVERY AND PAYMENT
The shop delivers during office hours except Sundays and Public Holidays.
5. BLOOM FLOWERISTS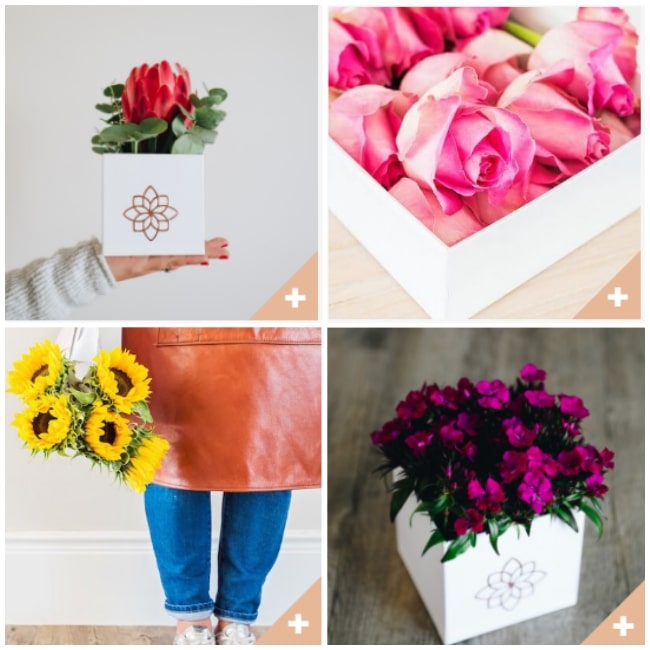 At Bloom, the most important thing is the happiness that a person would feel when they see how beautiful flowers can be that is why their creative and talented florists strive to create original, colorful, and stunning flower arrangements that will leave a mark and make whoever receives them love life.
WHAT PEOPLE LIKE
DEDICATED CUSTOMER SUPPORT. Bloom Flowerists promises an online shopping experience so convenient and seamless that you'll enjoy purchasing with confidence in their secure payment system. Their customer service team is also friendly and reliable so you'll have no problems contacting them.
PRODUCTS
Baby Bloom – R550 to R750
Bloom Bag – R750
Bloom Box – R850 to R900
DELIVERY AND PAYMENT
Contact the shop for queries on delivery and payment
6. KENLY'S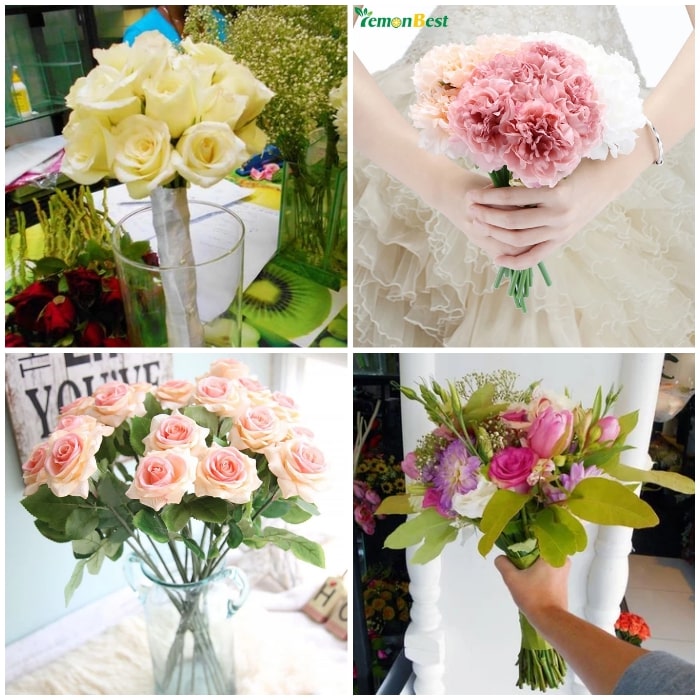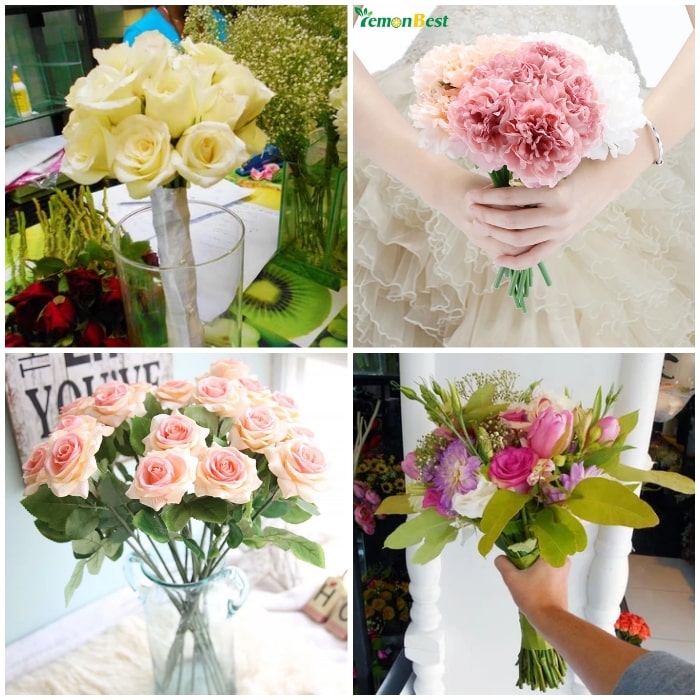 Kenly's is most famous for their simple yet modern take on flower arrangements. They do not try too hard to impress their clients, however they just naturally charm them with their fabulous work. They also extend their service to grand events particularly wedding. So, if you are aiming for a simple yet wonderful kind of vibe for your wedding make sure to get Kenly's as your flower provider.
| | |
| --- | --- |
| SPECIALTY | Wedding flowers |
| SELECTION SIZE | Large |
| STARTING PRICE | Contact the shop for the price list |
| DELIVERY FEE | Calculated at checkout |
| WEBSITE | https://kenlys.myshopify.com/ |
| SOCIAL MEDIA | |
| CONTACT DETAILS | 021 827 0317/8 or 072 518 7806 |
WHAT PEOPLE LIKE
CATERS TO WEDDINGS. If you are dreaming of a fairytale like wedding with thousands of fresh flowers scattered along the aisle, Kenly's can be your best bud. They extend their service to grand events most particularly weddings.
PRODUCTS
Artificial Bouquets –
Bridal Bouquets –
DELIVERY AND PAYMENT
Visa, Mastercard, AMEX

| | |
| --- | --- |
| SPECIALTY | Bespoke Flower Arrangements |
| SELECTION SIZE | Moderate |
| STARTING PRICE | Contact the shop for the price list |
| DELIVERY FEE | Calculated at checkout |
| WEBSITE | http://www.flowercraft.co.za/ |
| SOCIAL MEDIA | http://www.facebook.com/Flowercraftpinelands |
| CONTACT DETAILS | 021-531 6823 or 021-531 4886 | [email protected] |
WHAT PEOPLE LIKE
INTERNATIONAL SERVICES. Interflora is an international network that allows its Floristry members to cater to customers outside of their chosen area. As a member of Interflora, Floralcraft can provide you with all of your lush floral needs no matter if you're from Cape Town or not.
SECURED PAYMENTS. Online purchases can be means for evildoers to commit identity theft or credit card fraud. Since every purchased placed in Floralcraft's system is protected, you need not worry about these things happening to you.
PRODUCTS
WEDDING FLOWERS
CORPORATE FLOWERS
FLOWER ARRANGEMENTS
FLOWER BUNCHES
PLANTS
HAMPERS
DELIVERY AND PAYMENT
Pre-order Posies – If you don't like having to risk not getting Petal & Post's daily stock of posies, then have your bouquet ordered earlier!
Posy Subscription – If you want to receive beautiful lar basis without having to stress on it, then definitely opt for the Posy Subscription! Depending on your preference of weekly, bi-monthly, or monthly, Petals & Post offers a subscription on getting beautiful seasonal blooms. Expect a unique posy arrangement every time. You can unsubscribe anytime as they bill only three days before they need to deliver so you have time to think about it.
PRODUCTS
DELIVERY AND PAYMENT
Same Day Delivery – If you're looking for rushed floral arrangements then Flowers Atlantic is truly the place to be. Order with them online before 12 noon on weekdays and 10 AM on weekends, and have them deliver it to you the very same day. Check out more details on their site.
Personal Service – If ever you feel like the design you want isn't on any of their listings, then don't worry as Flowers Atlantic offers personal services catered uniquely to you! Have them help you make your visions come to life, contact them now for specifications.
PRODUCTS
Valentine's Day
Vases of Flowers
Baskets of Flowers
Hand Tied Bouquets
Anniversary
Birthday Flowers
Get Well Flowers
Plant Arrangements
Baby Flowers & Gifts
Gift Hampers
Sympathy Flowers
Wedding Flowers
Extra Add-on Gifts & Cards
DELIVERY AND PAYMENT