1. RAINBOWLY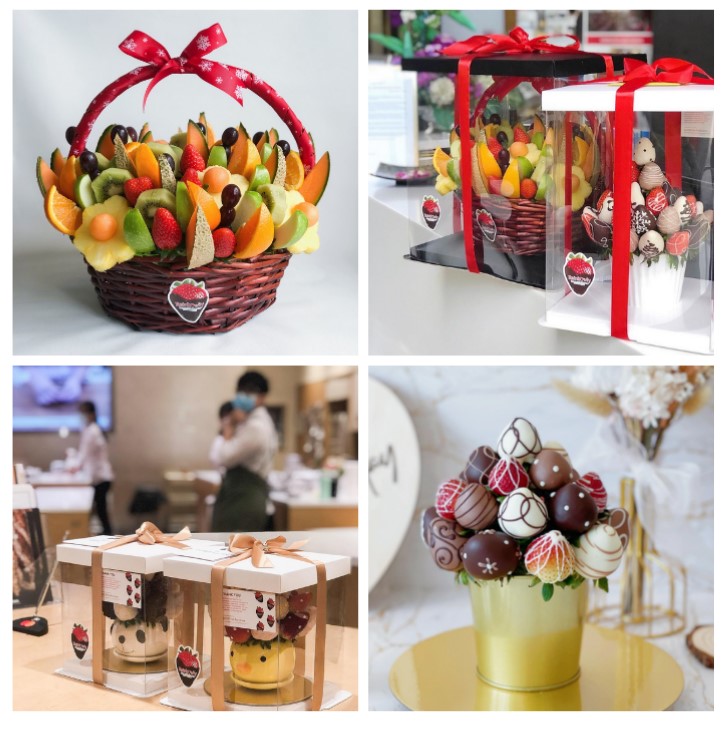 Looking for a one of a kind gift hamper that's guaranteed to impress? Check out a whole range of fresh fruit and chocolate dipped arrangements from Rainbowly. As Singapore's 1st and only fresh fruit arrangement specialist, Rainbowly offers healthier choice treats that are not only instagram worthy, but tasty delight for any celebration. Perfect as a get well soon hamper for all ages!
SPECIALTY
Fresh Fruit Arrangements
Chocolate Dipped Fruits
Flower / Fruit Bouquets
Variety of Gift Options
SELECTION SIZE
Large
STARTING PRICE
Starts at $99
DELIVERY FEE
$19
WEBSITE
https://www.rainbowly.com/
SOCIAL MEDIA
FB:https://www.facebook.com/rainbowlysg/
IG:@rainbowlysg
CONTACT DETAILS
+65 69002188
WHAT PEOPLE LIKE
INSTAGRAM WORTHY. Known for picture worthy fruit arrangements that are truly one of a kind locally, you are sure to be impressed with Rainbowly's products as a centerpiece.
RAVING REVIEWS With over 100+ raving reviews not only about their products, but their customer service, you will not be disappointed shopping at Rainbowly!
HEALTHIER CHOICE HAMPER Whether it's a gift for her or for him, Rainbowly treats are a healthier choice compared to cakes or other sweet delights! Enjoy tasty and healthier gifts with Rainbowly!
PRODUCTS
Gift Boxes – $59 onwards
Fruit Bouquets / Arrangements – $99 onwards
Fruit Baskets – $199 onwards
DELIVERY AND PAYMENT
Paynow, Visa, Mastercard, PayPal,
2. NOEL GIFTS INTERNATIONAL LTD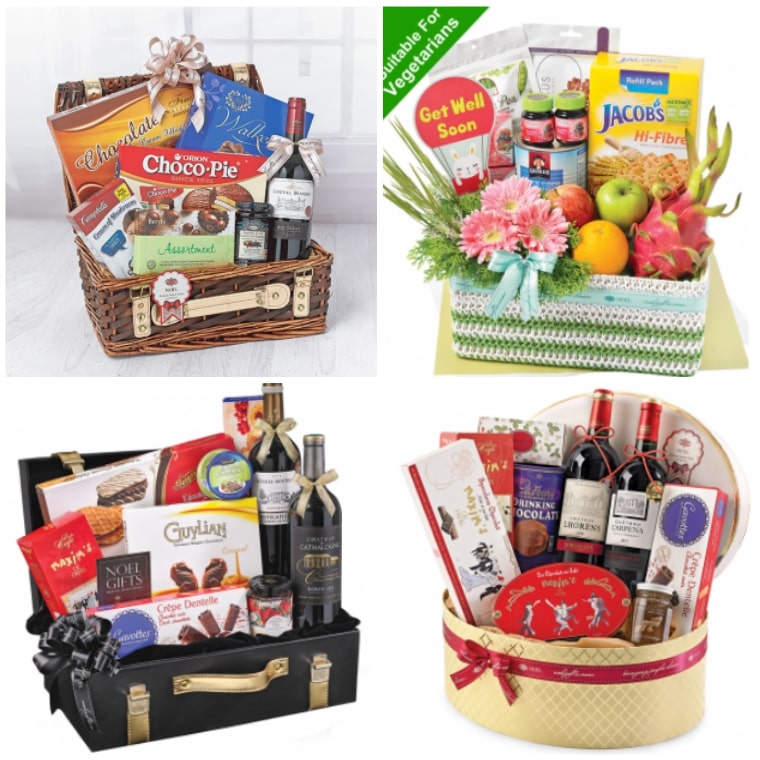 Noel Gifts is a leading company and online shop that offers different kinds of hampers for various occasions. For over 40 years, the shop has been one of the most sought after shops not only in Singapore but in other nearby areas. With this, they are able to establish their credibility as one of your best options when it comes to hampers.
Note: Delivering, but can't deliver to certain hospitals due to COVID-19 regulations.
WHAT PEOPLE LIKE
LARGE SELECTION. Whatever kind of gift items or hampers you may need, the shop is always available to help you out. They have a large collection of hampers that are appropriate for any occasion and events.
EASY TO COMMUNICATE WITH. You would not have to go beyond extra miles just to connect with them because they make sure to be always available to answer all your queries. You may reach them through phone, their website, or via email.
SHOPPING TOOLS. Part of their strategy to widen their reach is to make sure that they are always visible that is why they device different shopping tools for you to conveniently browse through their collection even at the convenience of your homes.
PRODUCTS
Gourmet Hamper – $100 to $200
Wellness Hamper – $40 to $200
Hari Raya Hamper
Organic Hamper – $65 to $125
DELIVERY AND PAYMENT
Visa, Mastercard, PayPal, EMets
3. SIMPLY HAMPER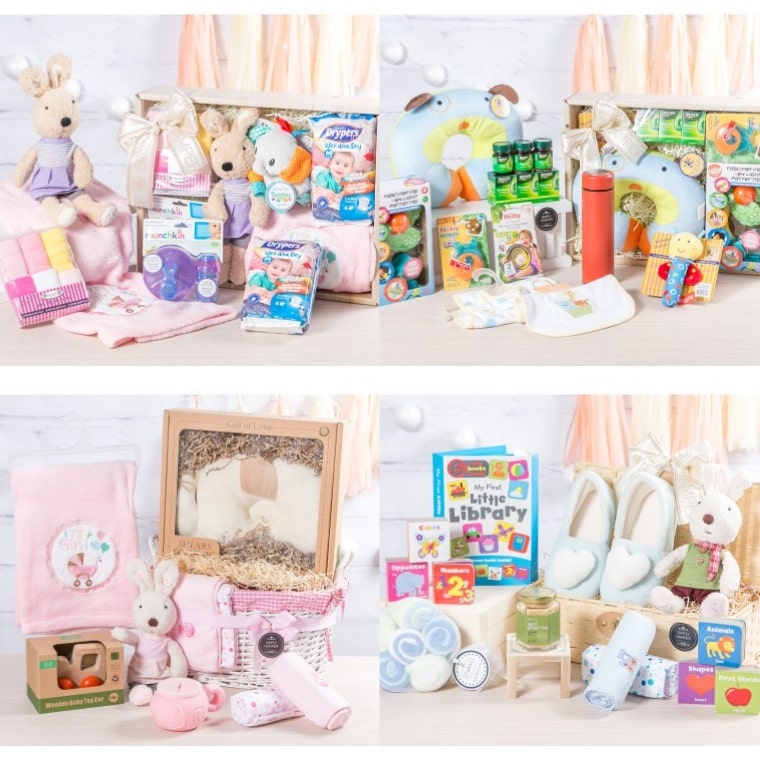 Simply Hamper houses hundreds of different hampers that all come in affordable prices. If you wish to give someone a basket of fruits or maybe a set of wine and cheese, they sure have everything that you need. All you have to do is place your orders through their website or via phone call and guaranteed that your order will arrive in best condition.
Note: Delivering and even has COVID-19 Care Packages.
WHAT PEOPLE LIKE
FRESH PRODUCTS. Since the shop most specializes in fruit and food hampers, they always makes sure to keep their food products fresh and healthy. They see to it that their fruits are grown well and their food products are stored in place where it would not spoil.
AFFORDABLE PRICES. If you think that getting a basket full of loads would challenge your budget, you are totally wrong. Simply Hamper strives to provide high quality of products without having to make everything expensive, so they try to sell their items at a fair amount.
PRODUCTS
Baby Hampers – $75 to $250
Fruit Hampers – $70 to $165
Get Well Hampers – $65 to $165
Food Hampers – $110 to $295
DELIVERY AND PAYMENT
PayPal, Mastercard, Visa, American Express, Discover
4. BLOOMDALE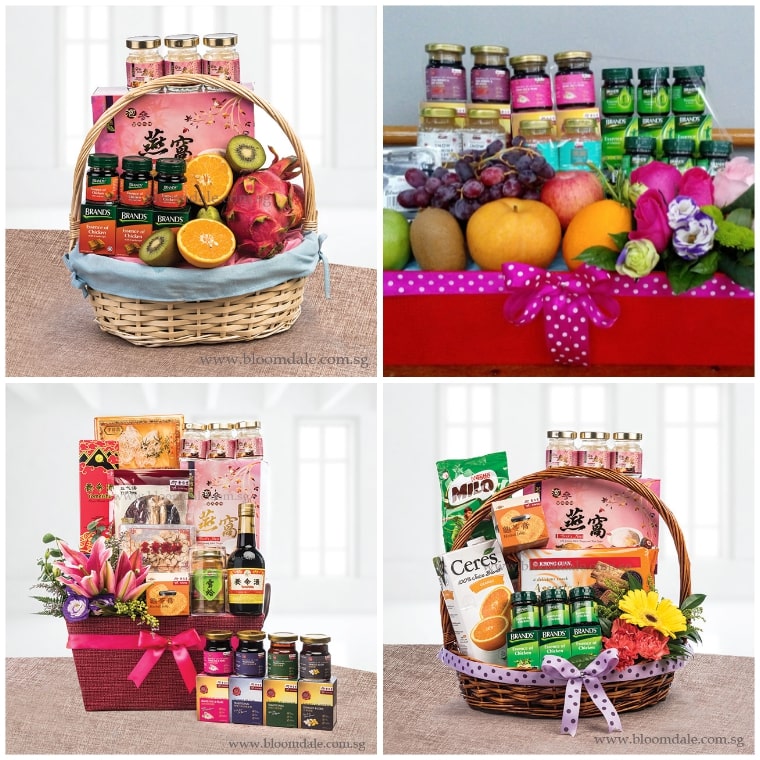 Babies products just don't seem to end. From the milk products, to bath soaps, to feeding bottles, everything just seem to be necessary. Thankfully, Bloomdale is equipped with all these products. They have lots of options when it comes to baby hampers so you would not have to worry about running out of baby products or thinking about a perfect gift for the next baby shower that you are attending.
WHAT PEOPLE LIKE
HANDY PACKAGING. One of the problems about hampers is it is too bulky to carry. Good think Bloomdale has thought of ideas to make their packaging handy and creative. They have created beautiful and light weight baskets and rolled up towels to maximize all the space and lessen your burden from carrying them.
AFFORDABLE ITEMS. Preparing for the baby's arrival sure costs you lots of money that is why Bloomdale wanted to help you out by offering their high quality baby hampers at very affordable prices.
OCCASIONAL SALE. Shopping experience would not be complete if you don't get to buy sale items. Even on their website, you will still be able to catch up on those sales, just make sure to always check out for their announcements.
PRODUCTS
Wellness Hampers – $55 to $120
CNY Hampers
DELIVERY AND PAYMENT
Visa, Mastercard, American Express
5. HUMMINGS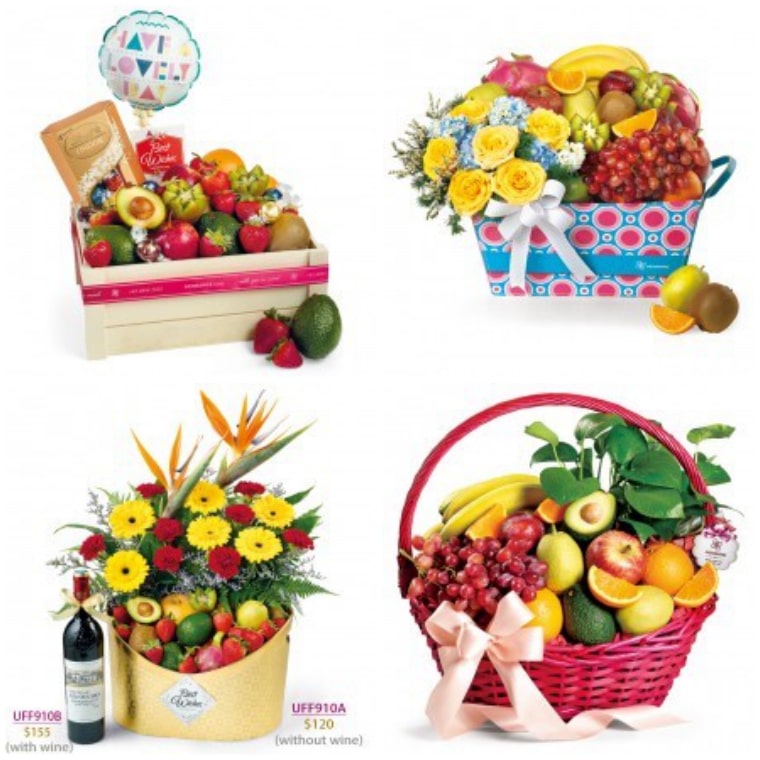 Hummings is a leading flower and gift shop in Singapore specializing in customized flowers and gift items. They have a large collection of items amounting to almost a thousand gift ideas and personalized flower arrangements that come with cute dedication cards. The shop aims to help express love and passion to its customers by always creating something beautiful for them.
Note: Delivering, but notes the possibility of delays on occasion due to Circuit Breaker's effect on couriers.
WHAT PEOPLE LIKE
HAMPERS FOR ALL OCCASIONS. Whatever occasion may need to prepare for, Hummings always got your back when it comes to hampers and flower arrangements. On their website, you can simply choose the type of event and it will automatically suggest different kinds of hampers from the most appropriate ones.
CUSTOM-MADE. The shop wants to let their clients feel special by offering to make personalized gift items. With this, they can help them express their love and happiness to the recipient of the gift without having to lose their touch of creativity.
PRODUCTS
Baby Hampers – $50 to $500
Get Well Hampers – $55 to $180
Gourmet Hampers – $55 to $500
DELIVERY AND PAYMENT
Mastercard, Visa, American Express, Discover, PayPal
6. HELLO CHOCOLATE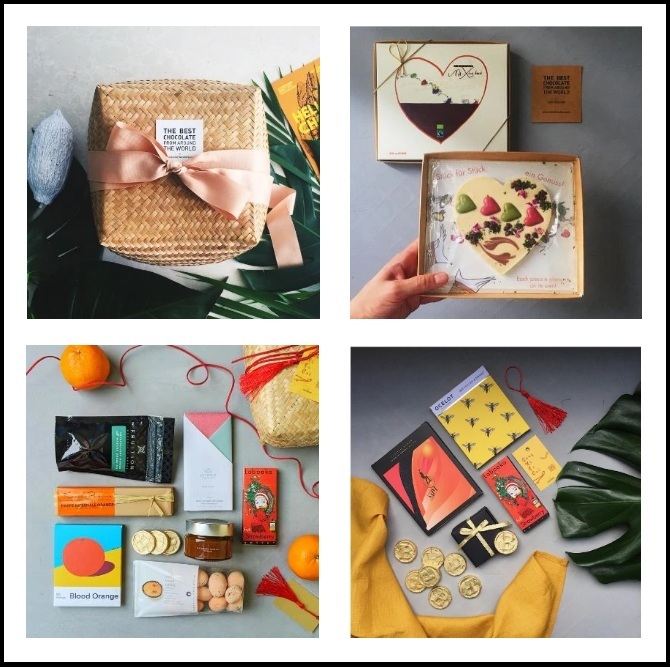 Got a friend with a sweet tooth? Why not send them some sweet and delicious boxes of chocolates straight to your place? No, you don't have to send it yourself because Hello Chocolate can make that work for you. They even offer same day delivery service for rush orders.
SPECIALTY

Craft chocolates

SELECTION SIZE

LArge

STARTING PRICE

Starts at $8

DELIVERY FEE

Starts at $6

WEBSITE

SOCIAL MEDIA

FB:https://www.facebook.com/HelloChocolate.Asia

IG:@hellochocolateasia

Twt:@HelloChocolates

CONTACT DETAILS

+65 65731025
WHAT PEOPLE LIKE
DIVERSE COLLECTION.

The shop does only feature chocolates that are locally made, they also offer food products from all over the world so it is as if you have toured from one country to another when you get to taste all the chocolates from their collection.

AFFORDABLE CHOCOLATES.

You'd be surprised to know that these premium chocolates are actually sold at very affordable prices. If you want to see the products available, you can visit their website.
PRODUCTS
DARK CHOCOLATE

– $16 TO $50

MILK CHOCOLATE

– $8 TO $50

RAW CHOCOLATE

– $10
DELIVERY AND PAYMENT
Accepts Visa, Mastercard, PayPal, AMEX
7. BELL BRAND (钟标)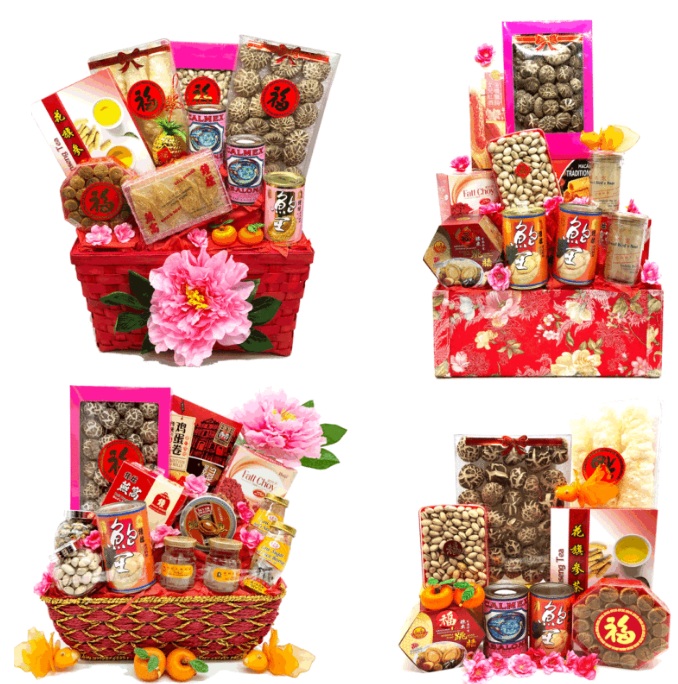 Bell Brand is one of Singapore's favorites when it comes to quality food and services. Established in the 1970s, the team is committed to bringing you only the highest quality and trustworthy products.
While the shop is best known for their freshly boiled bird's nest soup, they are also renowned in providing premium quality gift items or hampers that are exquisitely packaged and exhibit luxe.
So, if you want to take a glimpse of their featured products, you may always visit their online shop through their website.
| | |
| --- | --- |
| SPECIALTY | Festive Hampers |
| SELECTION SIZE | Medium |
| STARTING PRICE | $78.00 |
| DELIVERY FEE | Free delivery for hampers valued >$100 |
| WEBSITE | |
| SOCIAL MEDIA | |
| CONTACT DETAILS | +65 9489 2680 | 65336465 |
WHAT PEOPLE LIKE
LARGE SELECTION.

At Bell Brand, they offer a huge collection of different gift hampers that they guarantee to be equally best and are designed to suit any occasions and celebrations.

GREAT SERVICE.

There really is nothing to complain about when it comes to the products and services the Bell Brand is providing. They always give it their best and the results are shown through their clients good reviews and positive feedback.
PRODUCTS
FESTIVE HAMPERS – from $78 onwards. Customisation is available as well, subject to min. quantity of hampers ordered.
FRESHLY BOILED BIRD'S NEST SOUP – from $36/bowl onwards. Monthly subscription is also available.
DELIVERY AND PAYMENT
Free deliver above $100. The shop accepts PayNow (key in their UEN no.) and PayPal.
8.      BETTER THAN FLOWERS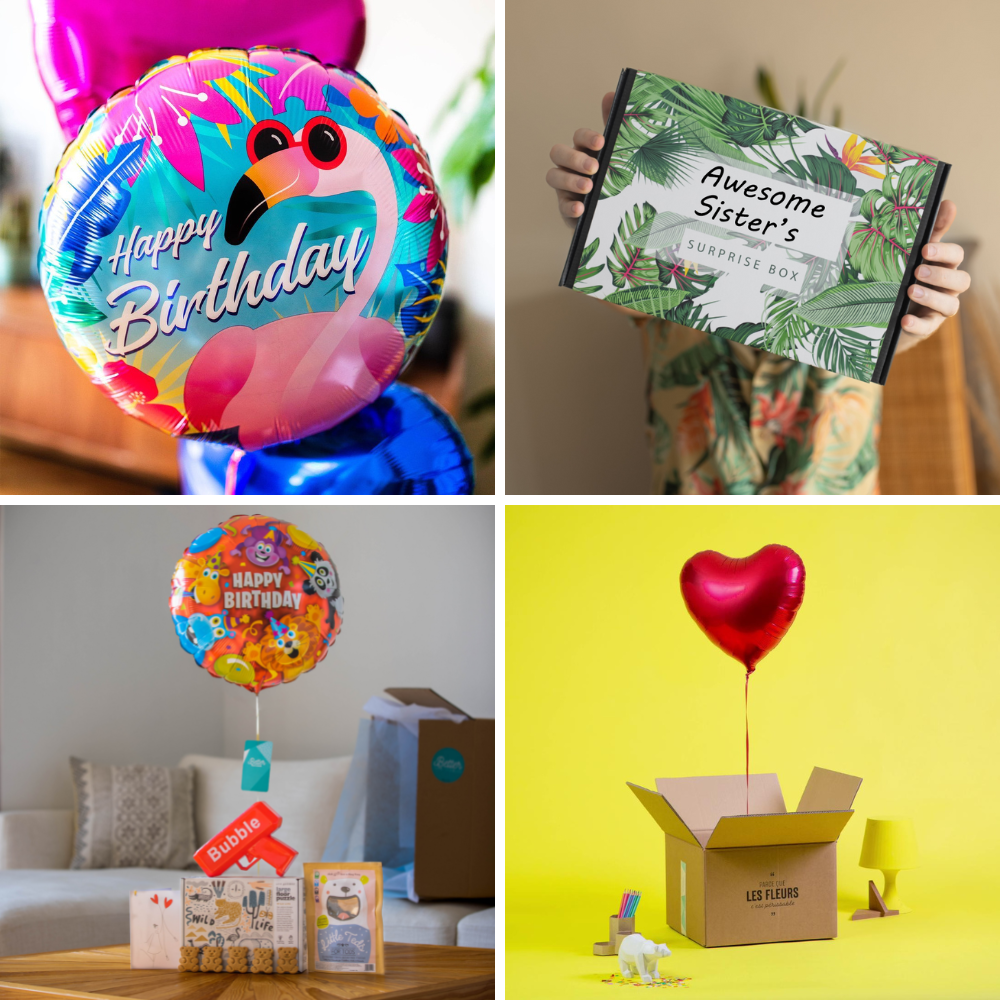 Better Than Flowers is not your typical shop that sells regular hampers.
Better Than Flowers is a florist shop that was established back in 2016 that provides customers with unique and original hand-delivered gifting options that are ideal just for any occasion the client may need it.
What made us really recommend them is that they do not have any pre-built hampers. With them, you will be able to build the perfect balloon box for that perfect person in your mind.
We believe that this will make the receiver feel more loved because of how personalized your gift is.
Another great thing about Better Than Flowers is the way they present their gift boxes. They are one of the few shops where helium-filled balloons will fly out of the box when you open it!
This will not only surprise your loved ones but will also make them feel extra special because of the card with your message attached to it.
Aside from these, we love they give their customers the chance to choose every item that will be in the box. This will allow you to pick out specific things that remind you of them in a way.
WHAT PEOPLE LIKE
AESTHETIC COLLECTION. We like that their packaging is made more compact yet aesthetic that ensuring that it will not be damaged during shipping and the items inside are also intact.
FAST DELIVERY. Furthermore, they can also deliver all week for orders done before 10 am, making their services excellent for clients who need their orders immediately or a day after.
CONVENIENT ORDERING METHODS. Overall, with detail-oriented and attentive personnel, secure and convenient payment methods, and highly personalized gifting options, we highly recommend them to clients in the area looking for affordable and special gifts for their loved ones.
PRODUCTS
Surprise Box – $11 SGD
Balloon Box – $35 SGD
Happy Birthday Cake Balloon – $199.00
DELIVERY AND PAYMENT
They offer occasional delivery fee promos and a wide variety of secure payment methods such as American Express, Apple Pay, Google Pay, PayPal, and MasterCard among many others.