Looking for the perfect gift for the one you love or adore? Your search is over for flower can do the trick. It can serve its purpose on different occasion. You can show appreciation with a bunch of flowers, sympathy for someone's grieving, and gratefulness for your loved ones existence. It only takes a second to make someone's day bright. So, make your orders now from the best flower delivery services in Melaka.
1. VIVA FLOWER GIFT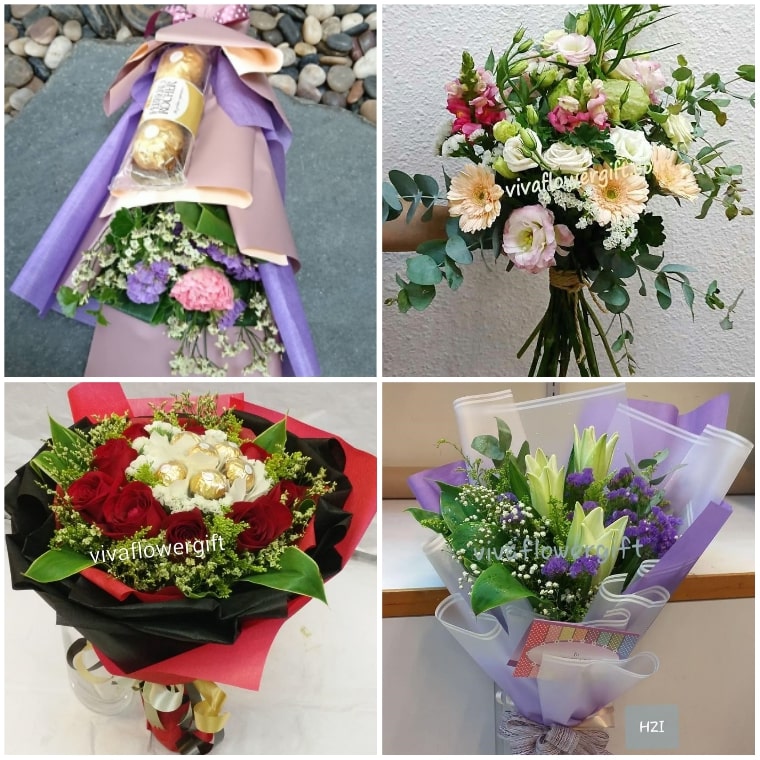 Viva Flower Gift sells fresh blooms with unique and refreshing designs. They have several gift items that you may buy for special occasions. There are premium floral arrangements, bouquet flowers, vase arrangements, indoor plants and greens, fruits, wine, and others. They offer free same day delivery to customers; however, this is only available for delivery around Melaca area. You may visit their website or call their phone number to place orders.
WHAT PEOPLE LIKE
ADVANCED SEARCH. For individuals who are having a hard time to figure out what flower suits an event/occasion, Viva Flower Gift puts an "Advanced Search" option. This helps customer filter items based on different categories. You may look for flowers based on price, manufacturer, tax class, and description. With this, choosing the right flower will be an easy one.
INTERNATIONAL SHIPPING. Customers also loved how they can send flowers internationally with Viva Flower Gift. Recognizing the need to serve globally, the shop provides flower delivery to some places around the globe.
TRACK ORDERS. If you need to know the status of your orders, you may input your order number to their tracking menu. The site will then notify you if such is ready for delivery or already in transit.
PRODUCTS
HAND BOUQUETS: RM35.00-RM780.00
FLOWER BASKET: RM30.00-RM650.00
PLANTS AND GREENS: RM120.00-RM170.00
CONDOLENCE & WREATH: RM130.00 – RM800
CAKE AND FLOWER: RM160.00
DELIVERY & PAYMENT
Orders received and confirmed before 12:00pm will be delivered on the same day. Otherwise, it will be delivered the next day or the date specified. They accept credit card via PayPal and bank transfer (Maybank 2U and RHB Bank Bhd).
2. FLOWER CHIMP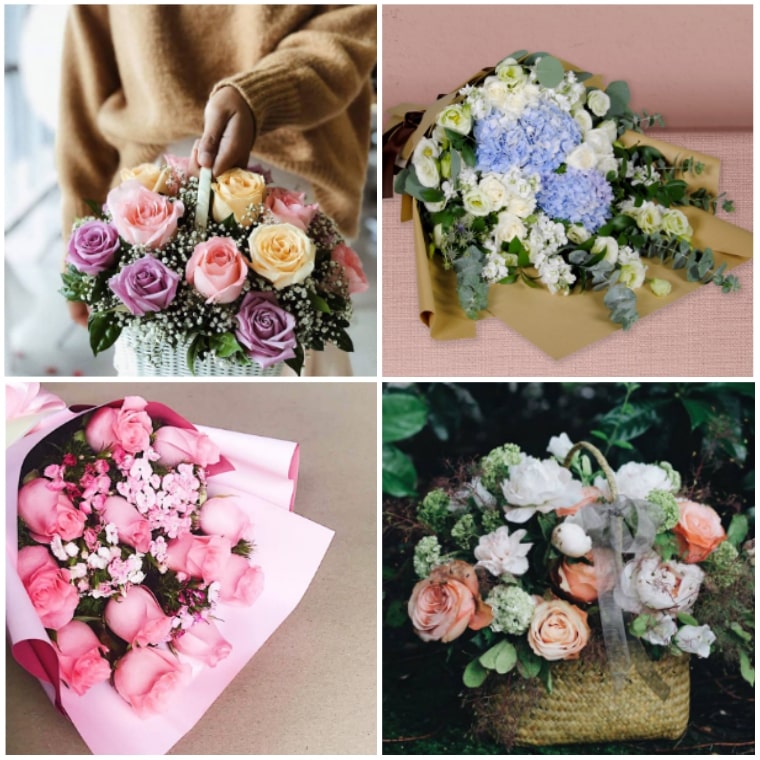 For years, Flower Chimp has been serving the region with beautifully arranged blooms. You may choose from multitude flower bouquets and vase arrangements on their site. Whether you're looking for a deluxe bouquet or a low-cost one, you will find the perfect blooms at Flower Chimp. What makes it better is that they offer same day delivery without additional cost. Their physical store opens every Monday to Saturday from 9:00 am to 6:00 in the afternoon.
| | |
| --- | --- |
| SPECIALTY | Hand bouquets |
| SELECTION SIZE | Enormous |
| STARTING PRICE | RM95 |
| DELIVERY FEE | Free Same Day Delivery |
| WEBSITE | https://www.flowerchimp.com |
| SOCIAL MEDIA | Instagram: @flowerchimp Facebook: /FlowerChimp |
| CONTACT DETAILS | (+60) 03 3099 2323 | [email protected] |
WHAT PEOPLE LIKE
FREE SAME DAY DELIVERY. Sending flowers to your loved ones is now affordable with Flower Chimp's free same day delivery. Orders placed within a certain period will be delivered on that day without any fees or charges. Thus, you don't need to spend tons to make someone feel loved.
LONG LASTING FLOWERS. Flowers used by their florists are sourced from local farmers and top flower growers. As such, you are ensured that your blooms will be of fine quality and longer life span. In fact, they guarantee that their flowers will last long–7 days maximum.
BUDGET FRIENDLY. If you're on a tight budget, then definitely, this shop is for you. They have stunning bouquets that you can buy at a reasonable price. For example, simple flower bouquets will cost only RM89.
PRODUCTS
FLOWER BOUQUET: RM89 – RM499
TABLE ARRANGEMENTS: RM119 – RM389
FLOWER STAND: RM169 – RM549
FLOWER BOXES: RM129 – RM169
FLOWER BASKET: RM139 – RM209
FRUIT BASKET: RM79 – RM299
CAKES: RM119 – RM139
BABY GIFT BOXES: RM85 – RM289
DELIVERY & PAYMENT
Orders placed before 2:00 pm will be delivered same day. For next-day deliveries and other holidays, order anytime.  They accept Visa, Mastercard, AMEX, Alipay, Bank Transfer, and payments made through 7/11.
3. THE FLORIST MARKET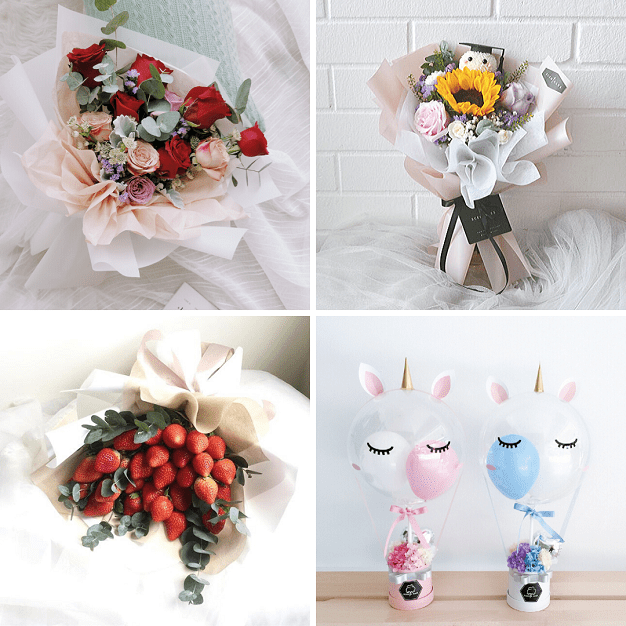 The Florist Market started in 2016 as an online marketplace where you can find listings of local florist that offers flower delivery services within the city of KL as well as in Selangor, Malacca, and Johor Bahru,. It is registered under TheFloristMarket Enterprise (JM0807764-A). 
By availing The Florist Market's service, you can easily discover which store you can contact if you are in need of the finest and freshest flowers in the area. It can also easily provide you with a collection of products to choose from for a seamless shopping experience.
| | |
| --- | --- |
| SPECIALTY | Elegant wrapped bouquets |
| SELECTION SIZE | Large |
| STARTING PRICE | From RM 29 |
| DELIVERY FEE | Calculated at checkout |
| WEBSITE | |
| SOCIAL MEDIA | https://www.facebook.com/thefloristmarket/ |
| CONTACT DETAILS | WHATSAPP VIA 011-59401990 |
WHAT PEOPLE LIKE
USER-FRIENDLY.

Free yourself from the hassle of jumping from one online shop to another and enjoy the perks of having The Florist Market on your browser bookmark. By just visiting their website, you will be presented with tons of options of flower arrangements and local florists so you can save some time looking for the best one that fits your needs.

SAFE PAYMENT.

The team guarantees that any transaction with them, especially payments are highly secured and safe. All of your details are kept in high confidentiality you can trust that you are billed accordingly.

E-GREETING CARD. The Florist Market improve the greeting message experience by including a video/audio/photo uploaded by sender. The receiver can just scan the QR code in the greeting card to view the video together with the message
PRODUCTS
Hand tied bouquets
Wrapped bouquets
Centerpieces
Wedding flowers
Sympathy flowers
Grand opening flowers
Balloon Flower Box
Graduation  Bouquets
Chocolate Bouquets
DELIVERY AND PAYMENT
The payment methods accepted are PayPal, Mastercard, Bank Transfer, 7 Eleven
4. VOE FLORIST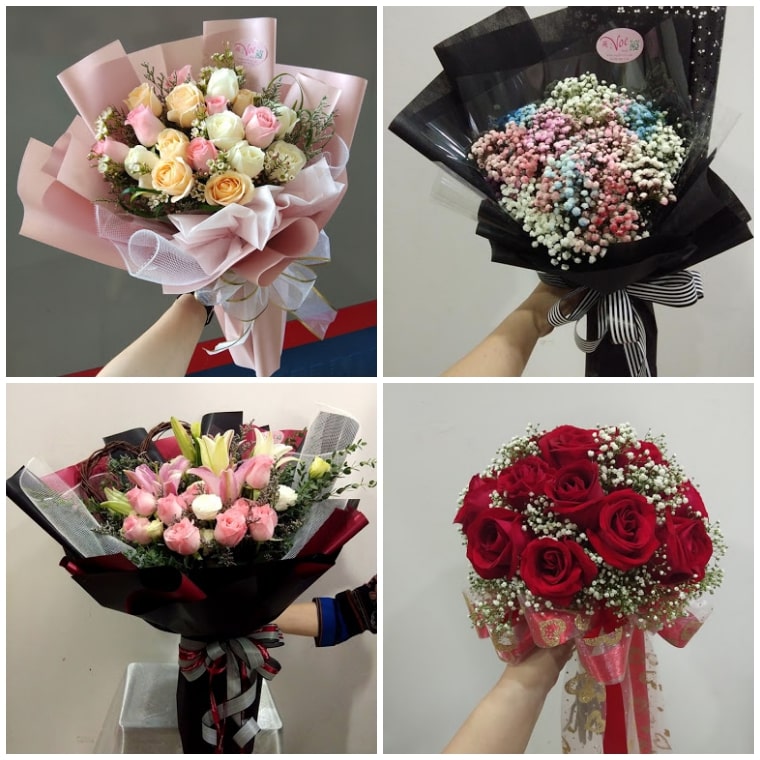 Voe Florist has been in the flower industry for over 6 years. Through these years, they have gained recognition from the community because of their floral arrangement. Their florists specialize in creating wonderful bouquets made out of artificial flowers. So, if you're looking for shops that offer artificial blooms, then it is the right choice for you. They also have fresh flowers in case you want the real one. You can visit their shop or contact them for orders.
| | |
| --- | --- |
| SPECIALTY | Artificial flower |
| SELECTION SIZE | Moderate |
| STARTING PRICE | Enquire for prices |
| DELIVERY FEE | |
| WEBSITE | http://www.voeflorist.com |
| SOCIAL MEDIA | Facebook: /VoeFlorist |
| CONTACT DETAILS | 06-286 7118 / 06-286 7118 | [email protected] |
WHAT PEOPLE LIKE
ARTIFICIAL AND FRESH FLOWERS. Their florists have already mastered how to arrange both artificial and fresh flowers. Thus, you won't get wrong in choosing Voe Florist for they won't disappoint you. They can make beautiful arrangements from artificial blooms and preserve the quality of fresh flowers.
ONTIME DELIVERY. Delays are never a good thing for buyers. Thus, Voe Florist ensures that each flower will be received on the time or day needed. This thing has been practiced and kept by the shop. Therefore, customers praised their efficient and on time delivery.
PRODUCTS
FLORAL PRODUCTS: Enquire for prices
DELIVERY & PAYMENT
5. CCH FLORIST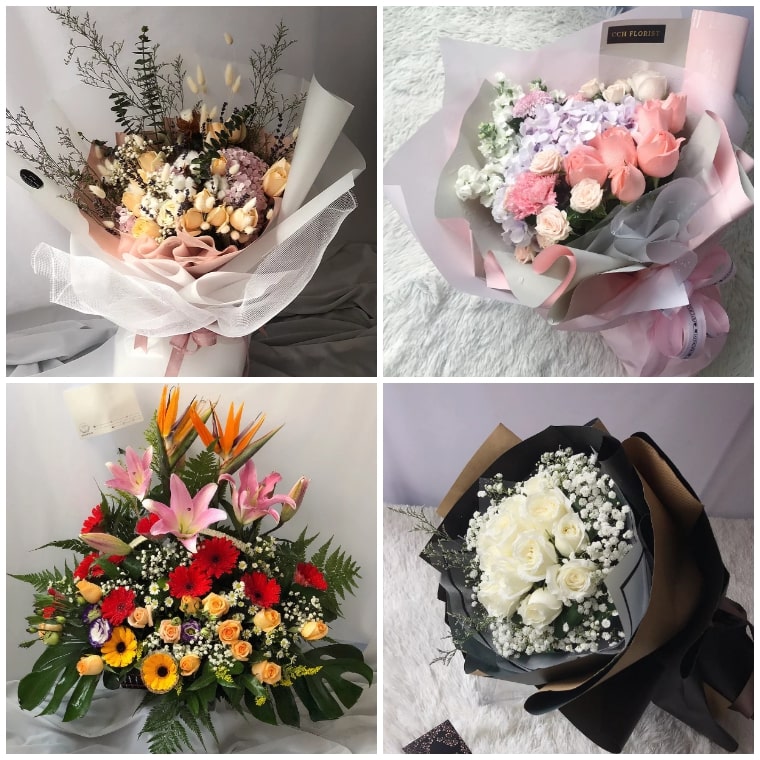 Established in 1986, CCH (stands for Chung Choon Hwee) Florist is one of the most reliable and trustworthy flower shops around the locality. At first, they struggled to be known in the business but as time goes by, their efforts bore fruit and made them who they are now. They offer various products which are perfect for any occasion. You may find flower bouquets designed for birthdays, Mother's Day, Valentines Day, and other special events.
On the year 2012, they started their online store to provide convenient shopping for their customers. Thus, you just need to browse from their catalog and choose the perfect flower for you.
WHAT PEOPLE LIKE
AFFORDABLE BOUQUETS. CCH Florist is well-known for its low-cost flower bouquets. They have numerous blooms which you can buy for a cheap price. As compared to other shops, their catalog contains affordable floral arrangements.
100% CUSTOMER SATISFACTION. Because customer is their number one priority, the staff and workers of their shop are trained to approach everyone in a pleasing manner. They guaranteed that they will never stop improving their service for their clients. And truly, they have a friendly, polite, and prompt florists.
PRODUCTS
BOUQUETS: RM100.00 – RM750
GET WELL SOON FLOWERS: RM100 – RM350
GRAND OPENING STAND: RM100.00 – RM500.00
FUNERAL WREATH: RM150.00 – RM1,000
6. Kimarie Florist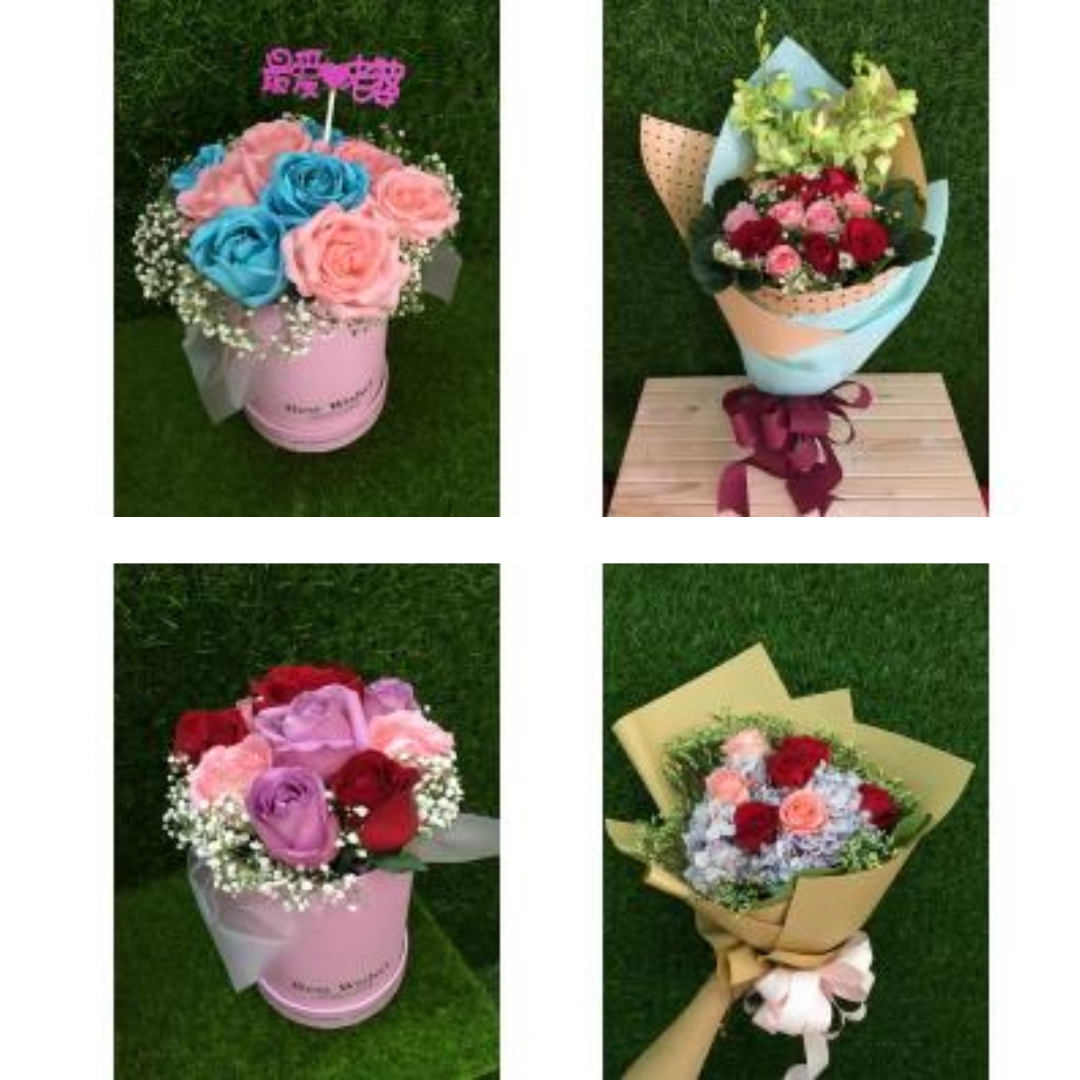 Kimarie Florist is the shop to go to for any and every one of your floral needs. They're well-equipped and knowledgeable when it comes to taking care and designing flowers, so you know you're in good hands.
Contact their florists for questions and inquiries.
WHAT PEOPLE LIKE
Fresh Flowers – Expect only the highest quality of flowers when you shop with Kimarie Florist. They source their blooms from local farms and a few ones internationally, all assured to be picked daily and sent with care.
Beautiful Arrangements – Colorful floral arrangements are one of the things their customers like about them. Kimarie has the most beautiful cobinations of colors, from yellow, pinks, and even purples!
PRODUCTS
PreservedFreshFlower

Korea Mini Flower

3D Bouquet

2D Bouquet

Paper Roses

Doll Bouquet

Money&Cholate Bouqet

Graduation

Marriage Proposal

Fresh Fruits

Fresh Flower Bouquet

Wedding Car

Bridal Bouquet

Artificial Floral

New Business Opening

Condolence Wreaths

Decoration

Balloon

Ferrero Rocher

Graduation Bouquet

99 ROSES

Flower Box

Mother's Day


Mother's Day-Money
DELIVERY AND PAYMENT
Maybank
7. Bloom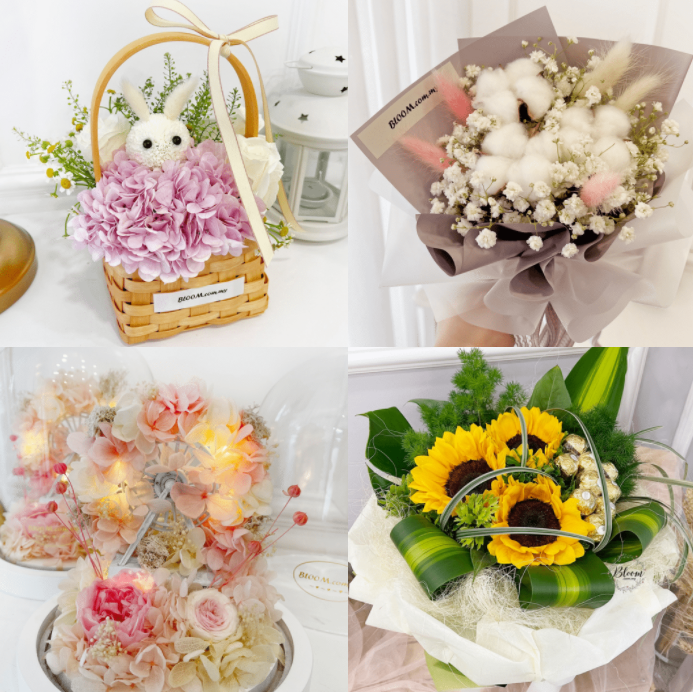 Another shop we recommend is Bloom, one of the most sought-after shops in the area.
Bloom prides itself on the consistency and quality of its services. The shop's team takes great care in ensuring that every step of the floral purchase goes smoothly, from placing order to the creation of bouquets and arrangements to the delivery services.
This dedication to getting the job done right is one of the main reasons why many trust in Bloom. Another are the flowers themselves. They are always handled with care, with the designers doing their best to showcase the flowers' beauty in every piece.
WHAT PEOPLE LIKE
Quality Arrangements – A flower shop is nothing without its products, so it isn't at all surprising that Bloom does its best to deliver top-notch quality flowers and gifts to its clients. Each and every flower arrangement that comes out of Bloom is made with the freshest flowers available, ensuring both longevity and beauty.
Excellent Customer Service – Bloom is a customer-centric business, which is why the shop endeavours to make every customer happy after their transactions. This means using only the finest items for arrangements, taking into consideration any special requests, and ensuring that items arrive at the client's doorstep on time and unharmed.
PRODUCTS
Flowers
Flowers and Gifts
Balloons
Opening Ceremony Flowers
Condolences Flowers
Event Flowers
DELIVERY AND PAYMENT
Bloom accepts major credit cards, bank deposits, JomPay, and PayPal. Delivery fee is dependent on recipient's address.
Images were taken from each company's official websites/social media.