Quezon City is one of the busiest cities in Metro Manila having lots of workers and students travelling in and out of the area. It is also one of the most popular cities with great places for romantic dates like parks, museums, 5-star hotels and restaurants and many more that is why it is also home to many flower shops that truly serve wonderful sets of fresh flowers and floral designs. If you want to know more about them, keep on reading this article.
1.      EVY'S FLOWER SHOP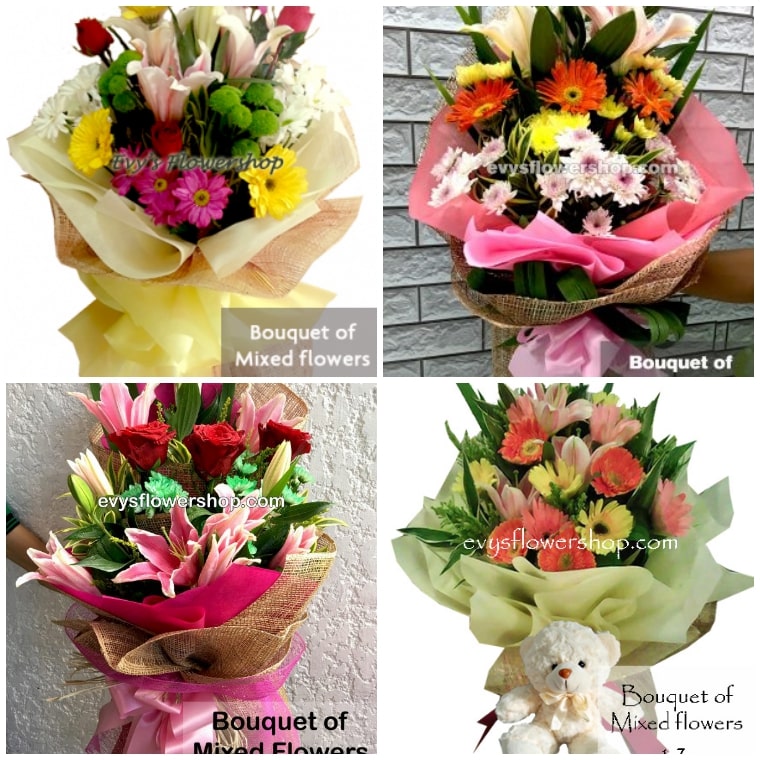 Evy's Flower Shop does not only deliver in Quezon City but all over the area of Metro Manila. They have various of floral arrangements to offer starting from fresh hand-made bouquets to basket arrangements. Their designs are well planned and arranged depending on the type of occasion that they will be used in.
| | |
| --- | --- |
| SPECIALTY | All kinds of flower arrangements |
| SELECTION SIZE | Large |
| STARTING PRICE | Starts at 2,000 |
| DELIVERY FEE | Calculated at checkout |
| WEBSITE | https://evysflowershop.com/ |
| SOCIAL MEDIA | FB:https://www.facebook.com/evysflowerspage/ |
| CONTACT DETAILS | +63 330 5174 |
WHAT PEOPLE LIKE
LARGE COLLECTION. Evy's Flower Shop caters to all kinds of flower arrangements may it be for mother's day, Valentine's, Christmas, or birthday. They also import flowers from different cities and countries to expand their inventory and to make sure that they can fully attend to all your flower needs.
CUTE ADD ONS. The shop wants to make sure that you get not only high quality of floral products but also a complete gift package that is why they offer some gift add ons such as chocolates, teddy bears, and balloons to make your order extra special.
PRODUCTS
Mixed- ₱2,00 to ₱7,000
Basket – ₱2,00 to ₱7,000
Vase – ₱2,00 to ₱7,000
Sympathy – ₱2,00 to ₱10,000
DELIVERY AND PAYMENT
The shop offers office and home delivery everyday with schedules 8AM-5PM and 8AM-7PM, respectively. Payments can be settled via bank transfers, remittance centers, and COD.
2.      LJJ FLOWER SHOP
LJJ is a leading flower shop in Quezon City. Their shop is built with excellence, passion, and trust from their loyal clients. The team of LJJ has good eye for great colors and aesthetics so no doubt that they can provide you with premium quality of products and services. The shop also aims to cater to all kinds of events and flower need so make sure to tap them anytime.
| | |
| --- | --- |
| SPECIALTY | Decorative flower arrangements |
| SELECTION SIZE | Medium |
| STARTING PRICE | Starts at ₱2,000 |
| DELIVERY FEE | Calculated at checkout |
| WEBSITE | http://www.ljjflowers.com/ |
| SOCIAL MEDIA | |
| CONTACT DETAILS | (02) 273-3634 |
WHAT PEOPLE LIKE
RELIABLE. Whatever kind of flower need you may have, you can entrust them with the good team of LJJ. Their experts always make sure to create truly stunning and highest quality of flower products so you won't have to worry about the final look of your orders. They do not also have hidden charges or extra fees; every money spent is calculated fairly.
SMOOTH ONLINE SHOPPING. If you are the type of person who always has a busy schedule and has no time to personally visit shops or even make phone calls, LJJ Flower Shop could be your best bud. They have a seamless and secure online shopping system that lets you browse through their collection and place your order which is also comprised of safe online payment process to complete your hassle-free shopping experience.
PRODUCTS
Bouquets – ₱2,000 to ₱3,000
Box Of Roses – ₱2,500 to ₱5,000
DELIVERY AND PAYMENT
American Express, PayPal, Visa, Mastercard, Apple Pay
3.      BUNDLES OF FLOWERS        
Bundles of Flowers is an online shop managed by Sally Oliva, an expert in flower arrangement and delivery industry. The shop has a large coverage of delivery service extending to Quezon City's neighbor areas, as well as some nearby provinces. If you want a shop that guarantees daily fresh flower delivery, Bundles of Flowers is the right one for you.
WHAT PEOPLE LIKE
ELEGANT DESIGNS. Bundles of Flowers is a home to different kinds of flower arrangement varying in colors and style. But, no matter how different they look from one another, guaranteed that all flower products are elegantly designed.
FREE DELIVERY. For those who will be sending flowers within Quezon City, the shop offers delivery service for free. The shop also makes sure that all your orders arrive on time and in best quality.
PRODUCTS
Arrangement- ₱1000 to ₱13500
Bouquet – ₱1000 to ₱6000
Vase – ₱1000 to ₱5000
DELIVERY AND PAYMENT
Home delivery is available everyday from 8AM-8PM, while office delivery runs from Monday to Saturday from 9AM to 5PM.
4.      FLOWER DELIVERY PHILIPPINES
Flower Delivery Philippines is one of the most established online flower shops not only in Quezon City but in the entire country. The shop houses a large collection of different kinds of fresh flowers that they turn into wonderful flower arrangements for all occasions. The shop offers free same day delivery with guaranteed 100% customer satisfaction.
| | |
| --- | --- |
| SPECIALTY | Wrapped bouquets and add ons |
| SELECTION SIZE | Large |
| STARTING PRICE | Starts at ₱1995 |
| DELIVERY FEE | Starts at ₱600 |
| WEBSITE | https://flowerdeliveryphilippines.net/ |
| SOCIAL MEDIA | |
| CONTACT DETAILS | (+63) 977 329 5031 / (+632) 944 7241 |
WHAT PEOPLE LIKE
CUSTOMIZED DESIGNS. The shop is always ready to offer you their magnificent and original floral designs but if you wish to have yours customized, the shop's talented and friendly staff are more than willing to assist you and provide you with the best effort that they can give to make your desired style.
VARIETY OF PRODUCTS. The shop does not stop in offering fresh flowers, they also sell other items that they believe would truly complement with any kind of arrangements you may choose. They have chocolates, balloons, stuffed toys, etc. that will help you complete your gift package.
PRODUCTS
Giant Bouquet – ₱2000 to ₱15000
Sympathy –  ₱1995 to ₱5000
Flower Box

DELIVERY AND PAYMENT
Visa, Mastercard, PayPal, American Express, Maestro
5.      LA ROSA FLOWER SHOP
La Rosa was opened in the year 2000 with two start up shops in Quezon City. Over the years, they have established themselves as one of the best and most reliable shops that you can find in the area. The goal of the shop is to share beauty and elegance in the entire country of the Philippines and they were really able to do so with the help of their creative and talented team.
| | |
| --- | --- |
| SPECIALTY | |
| SELECTION SIZE | Large |
| STARTING PRICE | Starts at  ₱1800 |
| DELIVERY FEE | Starts at ₱300 |
| WEBSITE | http://www.larosaflowershop.com/ |
| SOCIAL MEDIA | |
| CONTACT DETAILS | (632) 928-5359 / 881-6731 / 579-3073 |
WHAT PEOPLE LIKE
FRESH FLOWERS. La Rosa always makes sure that their inventory is composed of the freshest and finest quality of flowers. They want their beloved clients to get the best service and products that they truly deserve that is why they are very strict when it comes to the quality of the flowers that the shop imports and sends out.
BEAUTIFUL DESIGNS. Whatever kind of occasion you may be needing these flowers in, La Rosa is always ready to provide you with their exceptional floral designs. The shop prides itself with their original and stunning collection and guaranteed that every money spent on their products is worth its value.
PRODUCTS
Bouquet -₱1800 to  ₱6500
Vase –  ₱2000 to  ₱12000
Basket –  ₱2000 to  ₱10000
DELIVERY AND PAYMENT
PayPal, Visa, Mastercard, American Express, iPay88, JCB
6. FLORA PORTICO
Flora Portico is an online flower shop in Quezon City and offers the most beautiful design of flower arrangements at affordable price! They also offer funeral flower arrangement and bridal bouquet for wedding event. They help customers send love to their loved one with fresh and beautiful flowers arranged by their professional florist.
SPECIALTY
Flowers for all occasions
SELECTION SIZE
Large
STARTING PRICE
PHP 250
DELIVERY FEE
Free delivery to certain areas in Metro Manila
WEBSITE
https://www.floraportico.com/
SOCIAL MEDIA

http://facebook.com/floraportico.ph

CONTACT DETAILS

Phone: (+632) 330 4733

Mobile: (+63) 0999 981 8955

Email: [email protected]
WHAT PEOPLE LIKE
Flora Portico was already known by its quality collections of farm fresh flower arrangements since 2014.
They are now also delivering for Birthdays, Sympathies, Wedding, Corporate Engagements/Inauguration,Valentines, Mothers day and more.
PRODUCTS
GENERAL FLOWER ARRANGEMENTS: Starts at PHP 990
FLOWER ARRANGEMENTS FOR ALL OCCASIONS: Starts at PHP 1200
WEDDING FLOWERS: Starts at PHP 250
FUNERAL FLOWERS: Starts at PHP 2500
COMBO (FLOWERS + GIFTS): Starts at PHP 1150
DELIVERY & PAYMENT
Floral Portico offers same day delivery and free delivery to selected areas in Manila. They accept payment via Visa, Mastercard, PayPal, BDO, BPI, and Cebuana.
7. YOUR FLOWER PATCH 
Flower Patch started in 2012 and up until now has continued to provide flower services and needs to the locals. The owners are acclaimed in the industry of floristry. They take pride in their attention to details as well as their designs which are all presentable and elegant.
The shop offers flower arrangement on various occasions including weddings, birthday, and anniversary. Thus, you may contact the shop if you want to have a bloom for your event. Rest assured that they will do their best to give you a stunning bouquet. 
| | |
| --- | --- |
| Specialty | Flower bouquets |
| Selection Size | Moderate |
| Starting Price | Php 1,895 |
| Delivery Fee | Free |
| Website | |
| Social Media | |
| Contact Details | +632.8848.3071| [email protected] |
WHAT PEOPLE LIKE
FREE DELIVERY

. The shop does not only offer same day delivery to their customers but also free delivery. This means that you won't have to pay an additional charge just to have your flowers delivered at your place. Thus, you can save money or have it all spent on your blooms.

SAFE AND SECURED TRANSACTION

. Flower Patch also takes importance of your information. So, the have an SSL certificate which signifies that the site is protected and secured from possible third party attacks. In this way, you can comfortably and with great relief, purchase from the shop. 
PRODUCTS
FLOWER BOUQUET:

Php 1,895 – Php 5995

FLOWER BOX:

Php 1,195 – Php 5,395

FLOWER VASE:

Php 1,995 – Php 5,295

FLOWER BASKET:

Php 1,895 – Php 5,795

FRUIT BASKET:

Php 1,895 – Php 5,795
DELIVERY AND PAYMENT
Same day delivery applies to orders placed before 2:00 pm. After such time, all orders will be subjected to next day delivery. The shop accepts bank deposits in BPI, Metrobank, and Eastwest. You can also pay through money remittances and PayPal. 
8. FLOWER CHIMP
Flower Chimp is notably known for its superior quality of flower products and the team's highly creative floral designs. In fact, the shop is not only known to be one of the best in the Philippines, but also in its nearby countries. The shop is located in Metro Manila where a large group of Filipinos reside which makes them more accessible to whoever may want a premium class of flowers.
WHAT PEOPLE LIKE
SAME DAY DELIVERY.

Manila is one of the busiest cities in the Philippines so having a same day delivery is really a helpful thing for their clients who had no time to place their orders earlier. For as long as you send them your orders not later than 4PM, you will still be able to avail such.
CHOOSE YOUR DELIVERY SLOT.

Do you want your flowers to arrive very early in the morning? Or maybe exactly at dinner for added romance? With Flower Chimp, you will be able to choose your own schedule of delivery and they guarantee that your orders will arrive on time and in best condition.

FRESH FLOWERS.

One of the promises of Flower Chimp is that they will always deliver only the finest and freshest flowers in the country and until now they stayed true to that promise. The flowers that they sell even stay fresh even after a week of purchase!
PRODUCTS
Hand Bouquets – P1490 to P6000

Boxed Blooms – P1490 to P6000

Flower Baskets – P1490 to P7000

Flower Arrangements – P1390 to P6000



DELIVERY AND PAYMENT
The shop accepts Bank Transfer, VISA, AMEX, and Mastercard.