Telling someone you appreciate them does not always have to be as grand as inviting them to a concert or treating them to a fancy dinner in a cruise. Sometimes, all it takes is to send them fresh and beautiful flowers, maybe add a little note on the side. There are abundant options when it comes to choosing the right floral arrangements, all you need is a trustworthy florist. If you are from beautiful place of Singapore, try reaching out to these wonderful florists.
1.      FLOWER CHIMP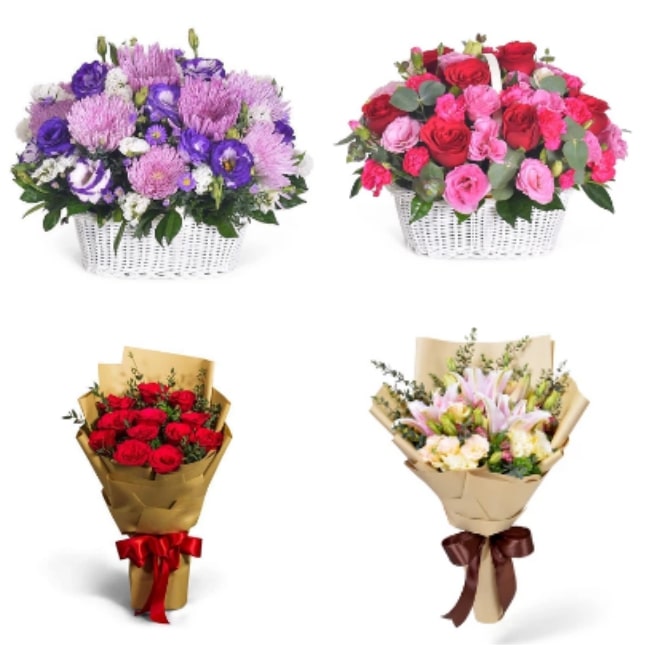 Flower Chimp is a large online flower shop that caters the whole Singapore area. Even if you live from different parts of the world, you can still send beautiful fresh flowers to your friends or loved ones currently living in Singapore through the help of the wonderful team of Flower Chimp. Their accommodating and highly skilled staff is always available to assist you with any flower related concerns that you may have.
WHAT PEOPLE LIKE
PREMIUM QUALITY FLOWERS. Flowers are paramount in the quality of overall service. It is very important that flowers are fresh and at its best quality. They make sure that it is and the quality of flower arrangement follows.
SUPERIOR QUALITY OF SERVICE. Quality of service is as important as well in the retail industry. That's why they are equipped with the best customer service to attend to every customer's needs
PRODUCTS
Vase Arrangements – $55 to $150
Bouquets – $50 to $90
Flower Baskets -$70 to $80
DELIVERY AND PAYMENT
AMEX, Visa, Mastercard, PayPal
2.      PRINCE'S FLOWER SHOP PTE LTD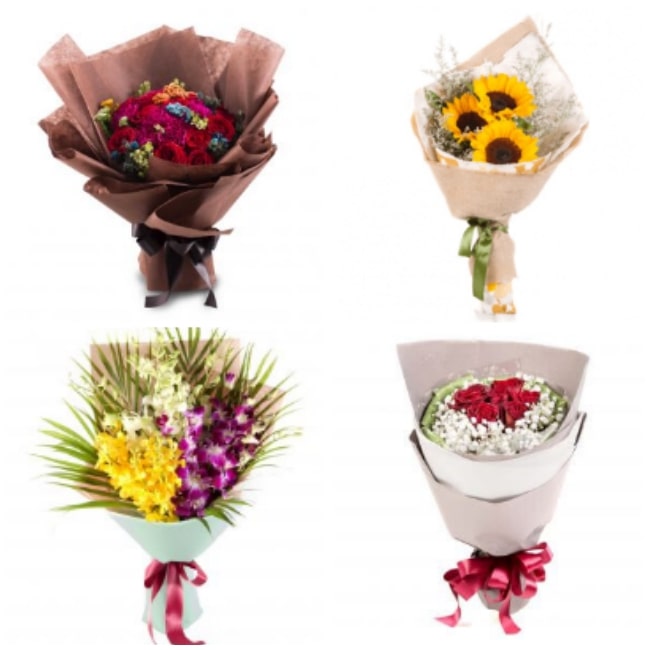 If you are looking for a flower shop that creates premium quality of flowers yet offers them at very affordable prices, you should definitely go to Prince's Flower Shop PTE LTD. They have thousands of different floral designs that vary in style, color, and size made of different kinds of fresh flowers. The combinations of colors and texture are truly stunning and will definitely make you say that all your money is worth its price.
WHAT PEOPLE LIKE
AFFORDABLE ITEMS. For as low as SGD 48 you will be able to get yourself or send someone a decent set of wrapped bouquets. You would not even think of it as something cheap because of its truly high-quality materials, most especially the fresh flowers that are used.
PRODUCTS
Bouquets – $45 to $90
Baskets – $90
DELIVERY AND PAYMENT
AMEX, Discover, Visa, Mastercard
3.      FLORACENT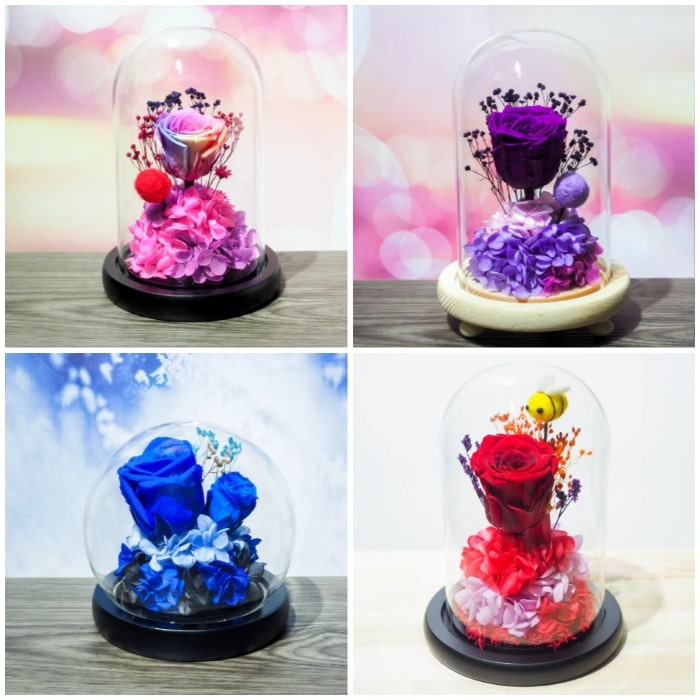 Tired of looking at typical floral designs and thinking of looking at shops that offer really unique and amazing collection? Why not try browse through the collection of Floracent? You know, it wasn't named like that for nothing. Pronounced as Fluorescent, the shop specializes in floral designs that are accompanied by sets of different kinds of lighting; mostly fairy lights. To add life and color to each arrangement, the shop adds these little bulbs to their bouquets and their most famous Floracent exclusives to achieve the uniqueness and beauty that they want to show.
WHAT PEOPLE LIKE
CREATIVITY. Who said that a bouquet should just be a bunch of flowers, right? The creativity and talent of the team of Floracent really made their shop one of the best and most visited especially with their added elegance of putting lights on each flower arrangement.
VALUE FOR MONEY. The shop's appreciation for their beloved customers' support are shown through their wonderful products and services. They want to make sure that their clients get the best that they deserve so they really go extra mile in terms of providing services.
PRODUCTS
Lighted Flowers – $40 to $90
DELIVERY AND PAYMENT
Apple Pay, AMEX, Mastercard, Visa, PayPal
4.      URBAN MEADOW FLOWERS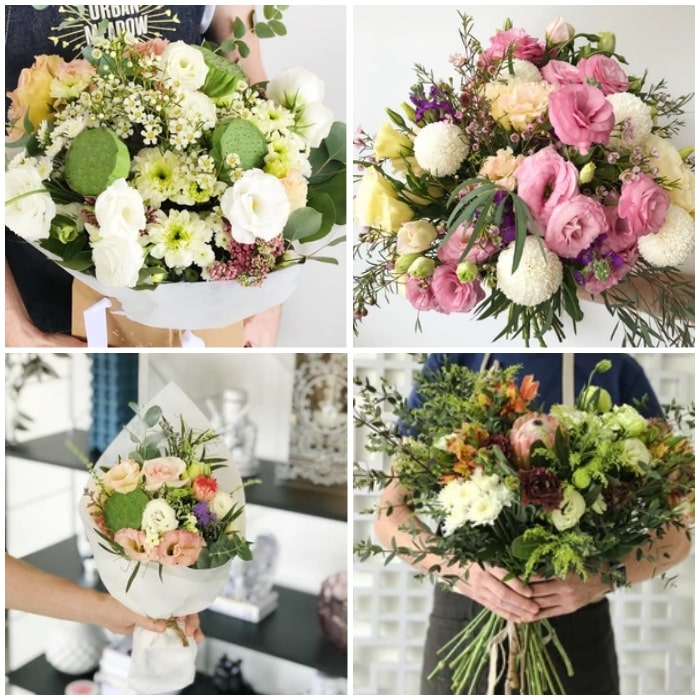 Urban Meadow Flowers wants to make sure that they are always with you in every step of the way that is why they make sure that they house a large collection of fresh flowers and turn them into beautiful sets of flower arrangements that will be all perfect for any kind of occasion. They also promise that their flowers are always fresh and will come very handy and affordable for everyone.
| | |
| --- | --- |
| SPECIALTY | Colorful, mixed bouquets |
| SELECTION SIZE | Large |
| STARTING PRICE | Starts at $38 |
| DELIVERY FEE | Calculated at checkout |
| WEBSITE | https://www.urbanmeadowflowers.com.sg/ |
| SOCIAL MEDIA | FB:https://www.facebook.com/urbanmeadowflowers/ IG:@urbanmeadowflowers |
| CONTACT DETAILS |   |
WHAT PEOPLE LIKE
VARIOUS DESIGNS. The shop makes sure that you never get tired of their designs that is why every weekday they design different suprise bunch of market flowers for you to always have a breath of fresh air.
DIFFERENT SIZES. Depending on your event or recipient, the shop offers their flower arrangements in three different sizes say, small, medium, and large and they guarantee that they are all equally beautiful.
PRODUCTS
DELIVERY AND PAYMENT
The shop offers delivery free of charge.
5.      WITH EVERY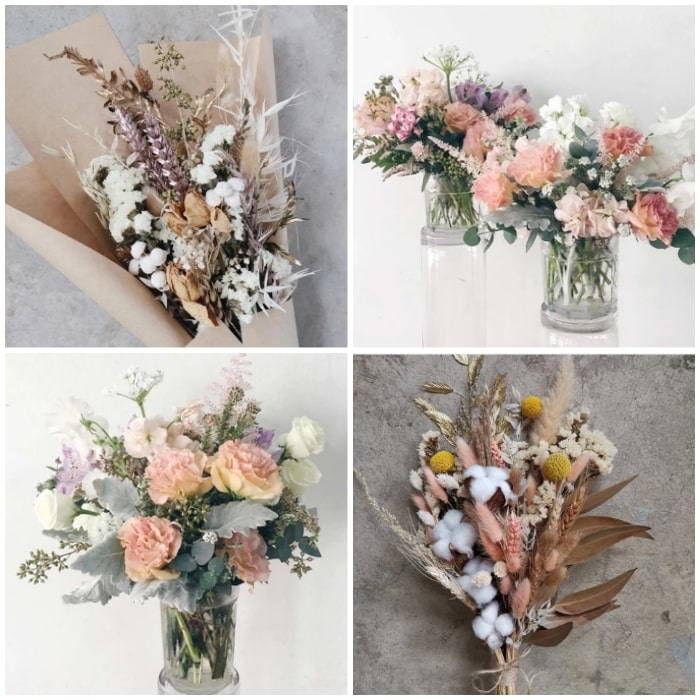 Kristle and Natalie co-founded With Every in 2014. Although it is a relatively young business, they are still able to earn the trust of many through their excellent products and services. They were able to provide high quality of floral arrangements, especially bouquets that are priced very affordably. The goal of With Every is to spread joy and beauty to the entire country of Singapore and never did they fail on making this goal possible.
WHAT PEOPLE LIKE
BOUQUETS FOR ANY OCCASION. They have a great selection of flowers for different occasions. You could easily choose from here as the flowers are categorized according to the occasion. Just visit their site and learn more about their product offerings.
ARTISTIC DESIGNS: Flower designs at With Every are truly a sight to look at. The flowers are creatively handcrafted, giving a more artistic vibe on the flowers.
PRODUCTS
Dried Flowers – $42 to $68
Subscription Flowers – $260 to $290
Bridal Flowers
DELIVERY AND PAYMENT
Visa, Mastercard, AMEX
6. FLORAL SINGAPORE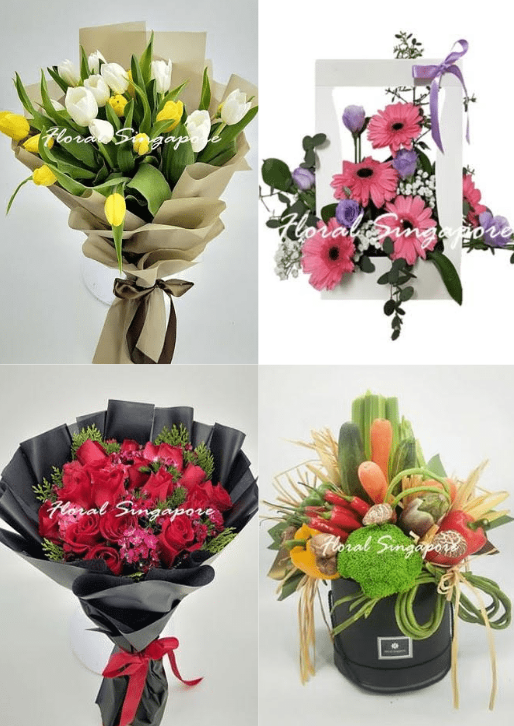 | | |
| --- | --- |
| BEST FOR | Birthdays and Valentine's Day arrangements |
| PRICING | Start from $49 |
| WEBSITE | |
| ADDRESS | 101 Prosper House, Lorong 23 Geylang #08-03, S388399 |
| CONTACT DETAILS | +65 6741 3088 │ Contact Form |
| OPERATING HOURS | Monday to Friday 9am – 5 pm, Sat 9am – 3pm |
Floral Singapore is a local florist in Singapore that provides flower needs for the area. It takes pride in its fresh blooms and floral arrangements. They have a great team of florist that creates artistic and beautiful bouquets for every occasion.
Here, you can find arrangements for events like graduation, weddings, Valentine's Day, and of course, for grand openings. The shop believes that nothing beats congratulatory flowers for someone who is opening his business. Thus, you are ensured that what will be delivered to your recipients is of high and premium quality. 
SERVICE HIGHLIGHTS
Free delivery

Same day delivery

24/7 Customer support

Guaranteed fresh flower
CUSTOMER REVIEWS
Customers are satisfied as what they get is exactly what is stated in the picture. Here's a 5-star review from their page:
"Ordered for the first time recently and was super impressed with the responsiveness and the speed." – Kenny Lew
7. HAPPY BUNCH

Happy Bunch offers transactions that are simple and straightforward for their customers. Selecting an arrangement won't be an issue– just choose one from their weekly designed signature bunches.
The size options are Petite, Single, Double and Triple. For same-day delivery in Singapore, make sure to order by 12:30pm.
SERVICE HIGHLIGHTS
Free same-day delivery
Simple, rustic presentation of bouquets
Market-fresh flowers
Reminder service so you don't forget to send flowers on special occasions
CUSTOMER REVIEWS
On Google Reviews, Happy Bunch gets props for their affordable flowers, responsive customer service, and gorgeous flowers. Clients also like the fact that the designs are refreshed weekly for their signature bunches. Zack Yap wrote:
"Bringing smiles to people's faces by delivering very well bundled flowers direct to the recipients at an affordable price. There are new arrangements everyday as well! Perfect for a surprise and you don't ever have to send the same flowers.
Great service. Great flowers and arrangement. Would recommend."  
8. THE BLOOM BOX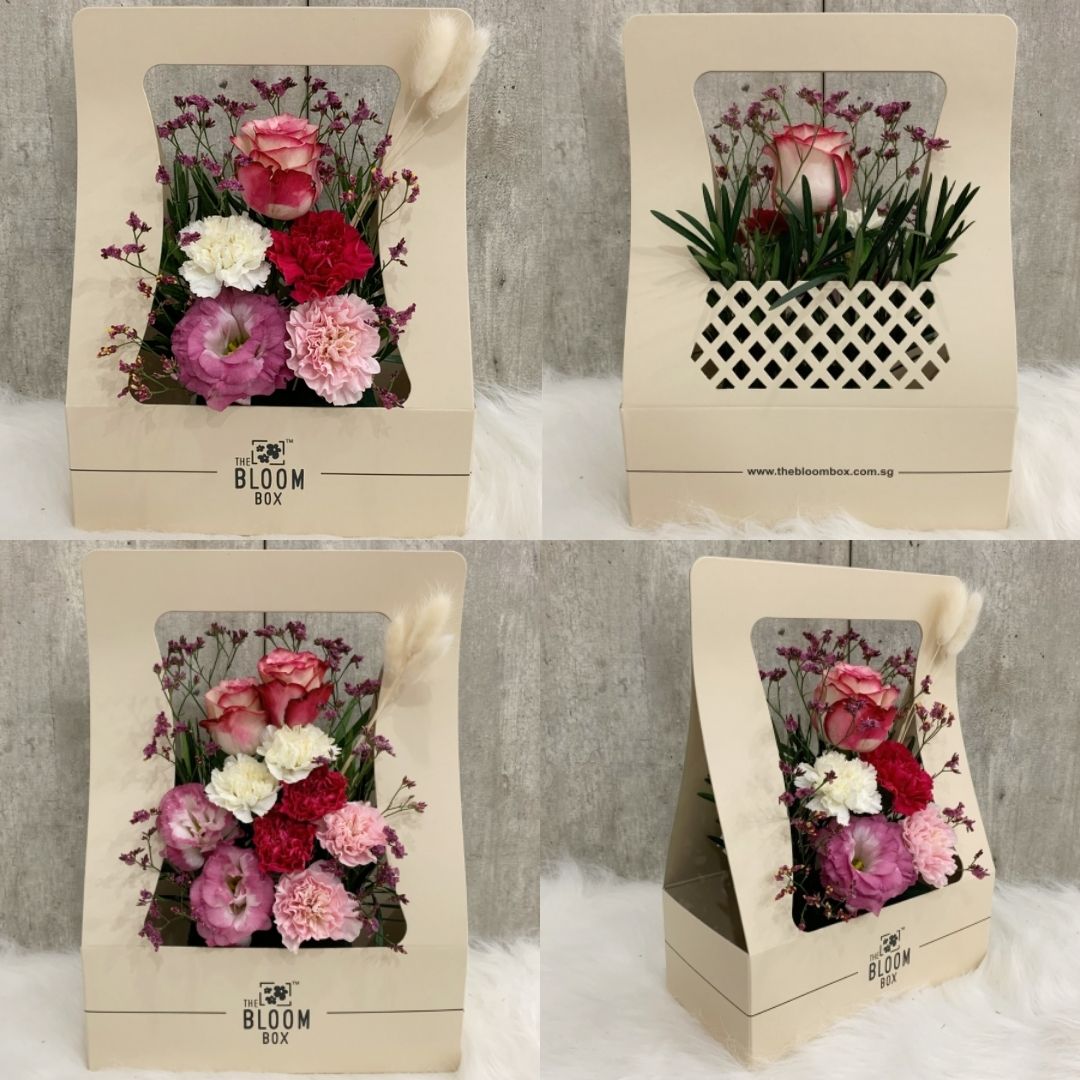 The Bloom Box offers one unique arrangement per day, for you to gift to your friends and family. This goes without saying that you're sure to get something special daily every time you order.
Forget about thinking about combinations as The Bloom Box will do it for you. Expect nothing but the best from them. Check out the special arrangement for today!
WHAT PEOPLE LIKE
Free Same-Day delivery – What's better than a speedy delivery? A free one of course! With The Bloom Box, you won't ever have to worry about the added cost as they make sure to send off your arrangements swiftly, and with no delivery fee. It truly is the time for you to splurge on gifts and send them off hassle-free.

Bloom Box of the Day – Experience a one-of-a-kind flower arrangement with Bloom Box's arrangement of the day. Starting at SGD35, you are to get an amazing bouquet at this best price!
PRODUCTS
Baby Bloom Box
Regular Bloom Box
Bloom Box Plus
DELIVERY AND PAYMENT
Accepts all major credit/debit cards via Visa and Mastercard as well as payment via Paypal (AMEX included) and Internet Banking.
9. FLORAL PASSION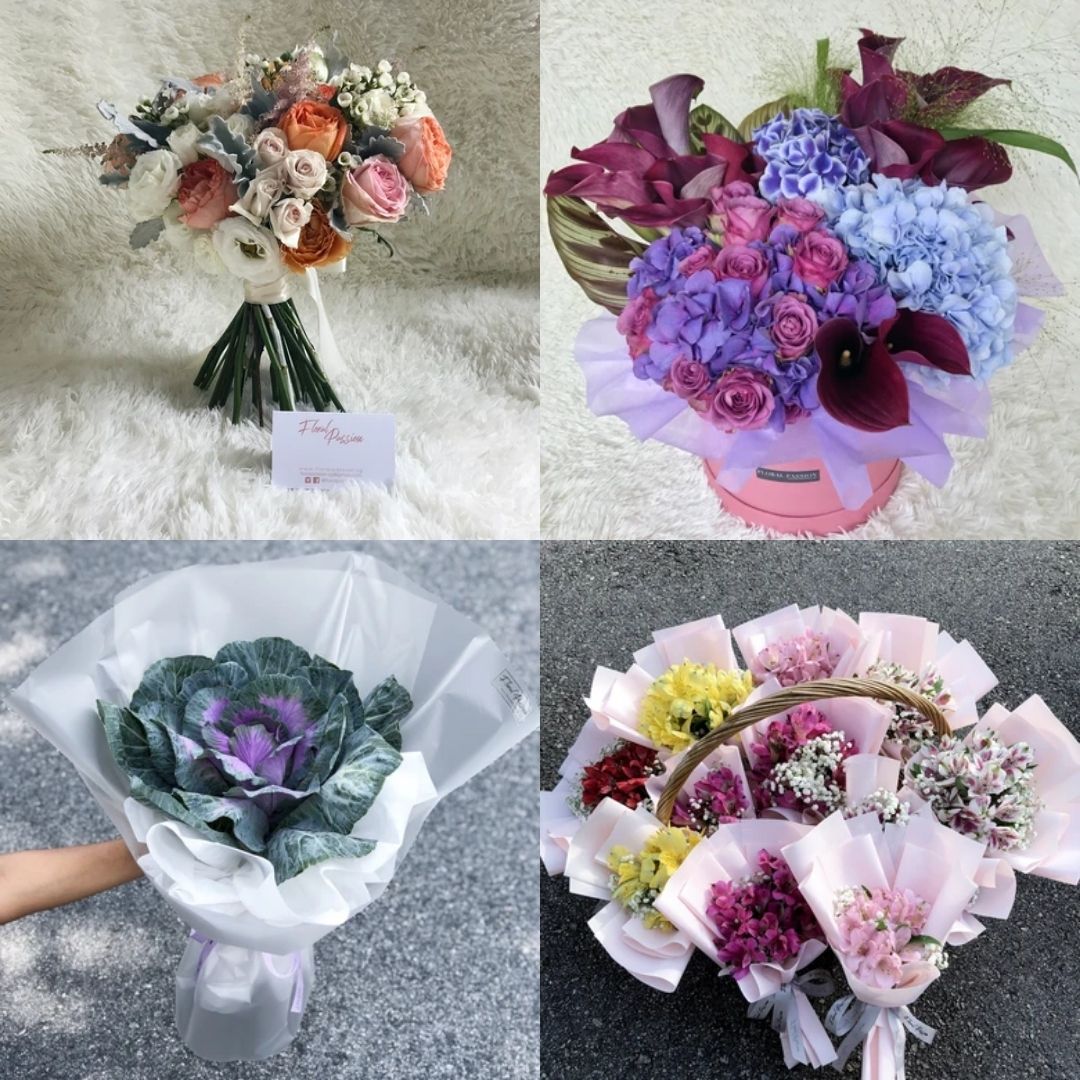 If you're looking for the best blooms at the best price, then definitely consider Floral Passion as they have arrangements just under $50!
Get high quality flowers for a cheaper price, make sure to check out their listings on the website.
WHAT PEOPLE LIKE
Everlasting Flowers – Floral Passion offers preserved flowers that will last you a lifetime and more! Get one everlasting arrangement and display it without the hassles of maintenance and watering!
Flower Subscription – Save yourself the time and opt for Floral Passion's regular delivery of flower subscriptions! You don't have to order an arrangement every time as they'll curate the best and have it sent to you.
PRODUCTS
Flower Box
Preserved Flowers
Floral Bouquets
DELIVERY AND PAYMENT
Payment details are given upon checkout
8. FIRST SIGHT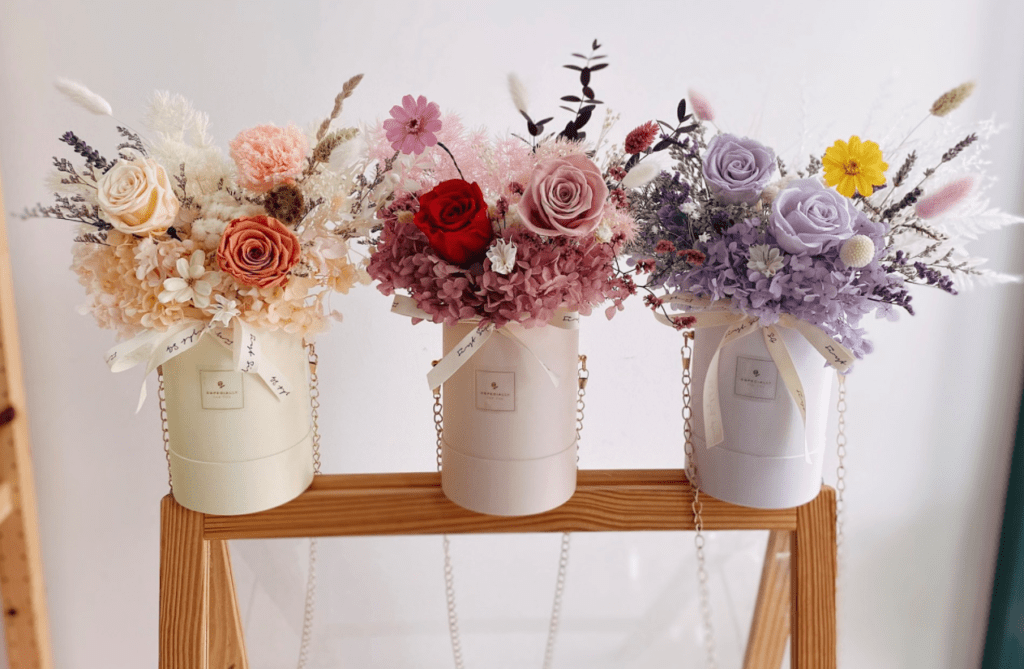 Established in 2015, First Sight is a floral boutique dedicated to crafting unique and beautiful flower bouquets for all occasions. First sight endeavours to make customers happy and satisfied by providing arrangements that feature one-of-a-kind blooms and exquisite materials.
Clients who are interested will also be happy to know that First Sight offers wedding flowers and preserved flowers alongside their regular flower bouquets.
WHAT PEOPLE LIKE
EVERLASTING FLOWERS. Flowers are typically used to express affections, so what better flower to use than those that will never wilt? At First Sight, clients can acquire beautifully crafted preserved flowers for the next special occasion or a "just cause" flower-giving moment.
EXQUISITE DESIGNS. First Sight's founder went out of her way to study floristry in South Korea and London, resulting in skills and expertise that allow her craft arrangements in a way that evokes emotions.
EVENT FLOWERS. Aside from the standard bouquets and arrangements, First Sight also crafts wedding flowers and corporate event flowers. To learn more about these services, clients will need to contact the shop for a consultation.
PRODUCTS
FLOWER BOUQUETS
EVERLASTING BLOOMS
BLOOM BOXES
ADD ONS
EVENT FLOWERS
DELIVERY AND PAYMENT
Accepted payment: VISA, MasterCard, and PayPal