Dublin is the capital of the Republic of Ireland and it is known for having beautiful natural scenery, especially the coastal towns and villages. It is also home to talented artists in the field of literature and movies. It is also home to the oldest pub in Ireland where many premier musicians still perform. Adding in setting the mood for romance is the city's large plantation of flowers which their talented people turn into wonderful arrangements. Some of them are actually mentioned below.
1. Sophy Crown Flowers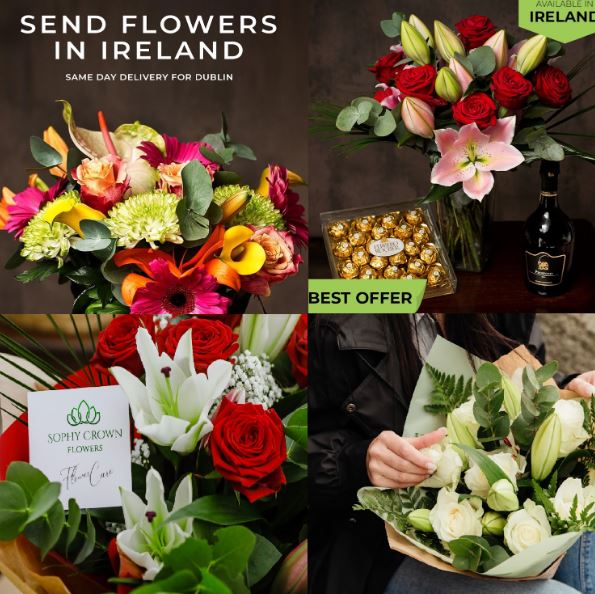 Buying flowers online is simple and convenient at SophyCrownFlowers. They provide a large selection of flower arrangements ideal for different occasions, making it simple to locate the right bouquet. 
Their bouquets are organized by occasion, so you may choose a delicate rose bouquet for a wedding, a lily bouquet for an engagement party, or a colorful daisy bouquet for a special event. They take pleasure in utilizing only the freshest and best quality flowers to produce stunning bouquets that will last a lifetime. 
What people really like about them is their elegant and special bouquet designs with several options to add including handwritten cards if you choose to add a note and an option to add a chocolate box, wine, or vase to the order. 
Enjoy their safe delivery options since all bouquets are safely packed in branded carton boxes and if requested, you can ask their couriers to take photos of the box being delivered to the door and you can also ask further information on their delivery tracking.
Check them out now and you might be surprised with their special occasion surprises. They love to surprise their customers with something extra everytime. With their flower delivery Dublin service, you can have your arrangement delivered anywhere in Ireland, using their simple online ordering system.
WHAT PEOPLE LIKE
SAME DAY FLOWERS DELIVERY.

Expect prompt service and same-day delivery from their highly experienced crew as one of Dublin's premier flower delivery suppliers.
SECURE PAYMENTS AND SUPERB CUSTOMER SERVICE.

All payment methods are supported including Paypal, AMEX, GooglePay, MasterCard, and Visa. Additionally they have a 24/7 online fast chat support.
BOUQUET SAFETY.

All bouquets are securely secured in branded carton boxes, and if desired, their couriers can photograph the box as it is delivered to the door.
PRODUCTS
Valentine's Day bouquets and wine: €42.00 – €105.00

Flowers: €37.00 – €53.00

Gift Sets: €55.00 – €105.00
DELIVERY & PAYMENT
All payment methods are supported
2.      FLOWER LANE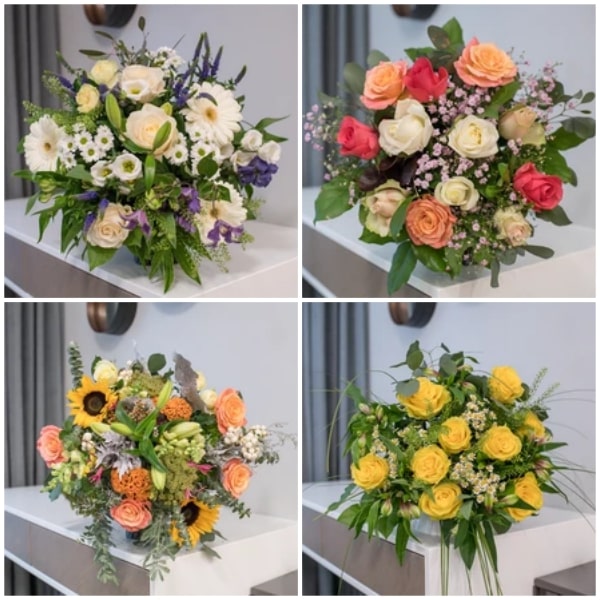 Flower Lane is a floral studio that you can find on the shopping center of Dun Laoghaire. Their florist has been in the industry for over 15 years and is continuously providing the locality with premium and fine blooms and floral arrangement. 
The shop has an online store where customers can place their orders. They have a good catalogue which contains all the arrangement from the shop. All you need to do is browse their collection, pick the one you prefer, and pay the price of such. 
WHAT PEOPLE LIKE
CATERS TO WEDDINGS. One of the best days a person might ever have is their wedding. It is a day of celebration of love and joy that is why it is just important that you become critical when it comes to choosing the florist who will take care of your flower needs and Flower Lane really is the one.
VALUE FOR MONEY. For more than 15 years, the shop has always prioritized the satisfaction of their customers and they want to show them how much they appreciate them by providing excellent quality of products and services that will truly give value to every centavo spent on them.
PRODUCTS
Romantic Flowers –  €45 to  €80
Best Sellers –  €45 to  €67
Luxury –  €45 to  €80
DELIVERY AND PAYMENT
Apple Pay, PayPal, AMEX, Mastercard, Visa, ShopifyPay, Visa, Maestro
3.      MAD FLOWERS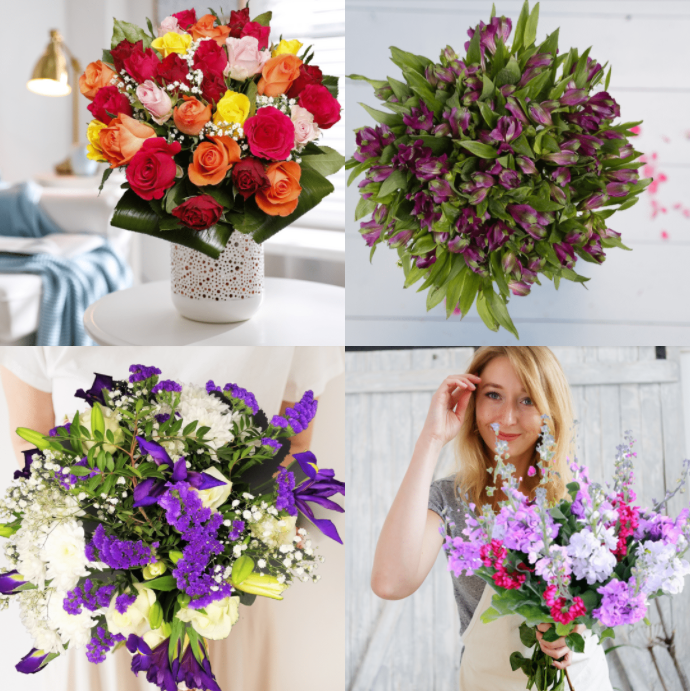 Mad Flowers is one of the leading flower shops in Ireland, offering floral delivery services seven days a week. Their catalogue is one of the most extensive on this list, featuring gifts, plants, balloons, chocolates, teddies, and many more.
Now, design-wise, Mad Flowers' creative team really exerts their best efforts to make sure that they do not disappoint. This is why the flowers you'll see on their website looks exactly like the ones you'll receive after purchasing.
It's also worth noting that the shop also makes sure that they only use the freshest and finest flowers and ornaments so their flower products will remain to be stunning and vibrant.
WHAT PEOPLE LIKE
ELEGANT DESIGNS. The team of Mad Flowers wants to always be equipped with new designs that will bring their clients in awe once they get to see them. Without losing the touch of elegance and vibrance, the shop is able to continually create original designs that are in line with the current trends in the business.
SPECIAL OFFERS. If you are the type of customer who enjoys deals and special offers, you should definitely try to shop at Mad Flowers because they consistently offer special deals that will be worth your money and time.
FLOWER SUBSCRIPTION. Customers in need of constant flower supplies need not look further than Mad Flowers since the shop offers a bi-weekly subscription plan. For just €30, you can receive fresh flowers every two weeks. 
PRODUCTS
Romantic: €10 – €130
Birthday: €10 – €130
New Baby: €10 – €130
DELIVERY AND PAYMENT
Full selection is available online for same-day delivery in Dublin and next-day delivery anywhere on the Island of Ireland. We accept all major payment providers, such as: Visa, MasterCard, PayPal, AmazonPay & Discover.
4.      ANNIE BLOOM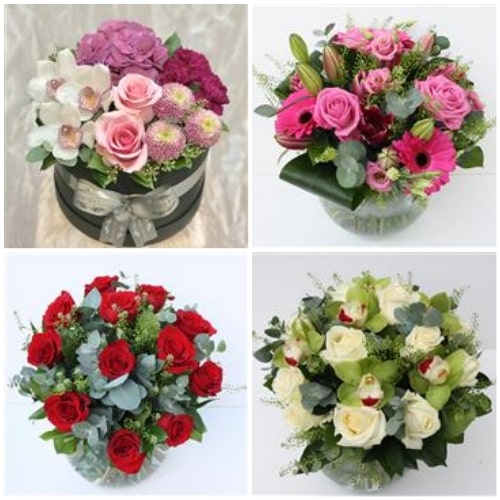 Don't let these luxury looking arrangements fool you. They won't break the bank! That's right, these boutique looking flowers are budget friendly. And good news – there are more choices on their website! Check Annie Bloom now and guaranteed that you won't regret it.
WHAT PEOPLE LIKE
WIDE VARIETY OF FLOWERS. Since Annie Bloom is considered as one of the leading and most trusted flower shops in Dublin, it's not surprising that they house such a large inventory of flowers. You can browse by flower type or shop by occasion and you still won't run out of options.
PRODUCTS
Flowers Vase – €34 to €89
DELIVERY AND PAYMENT
The shop delivers from Monday to Saturday between 10AM and 8PM.
5.      HOUSE OF FLOWERS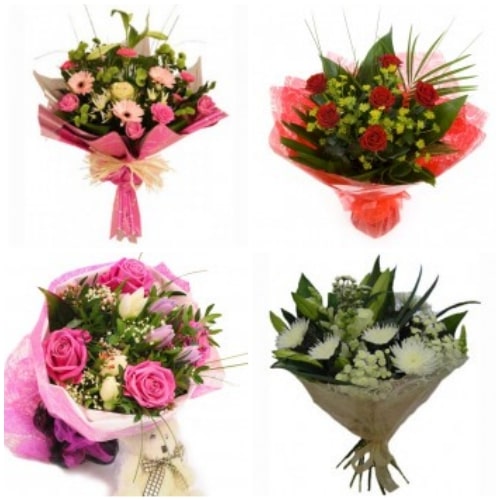 At House of Flower, experienced flower consultants attend to every order. The shop features flowers of different types and colors that are arranged together in tasteful bouquets to match your special occasion. Aside from bouquets, the shop also offers potted/vase plants and flowers, which also make for perfect gifts for any event.
WHAT PEOPLE LIKE
HANDCRAFTED BLOOMS. Having an affordable handcrafted bloom is one of the best features of the shop. Here, at House of Flowers, you can get a cheap yet elegantly designed blooms which are crafted by hand by their florists.
PRODUCTS
Anniversary – €75
Romance – €25 to €95
Get Well – €45 to €65
DELIVERY AND PAYMENT
Visa, PayPal, Mastercard
6. GARDEN OF EDENMORE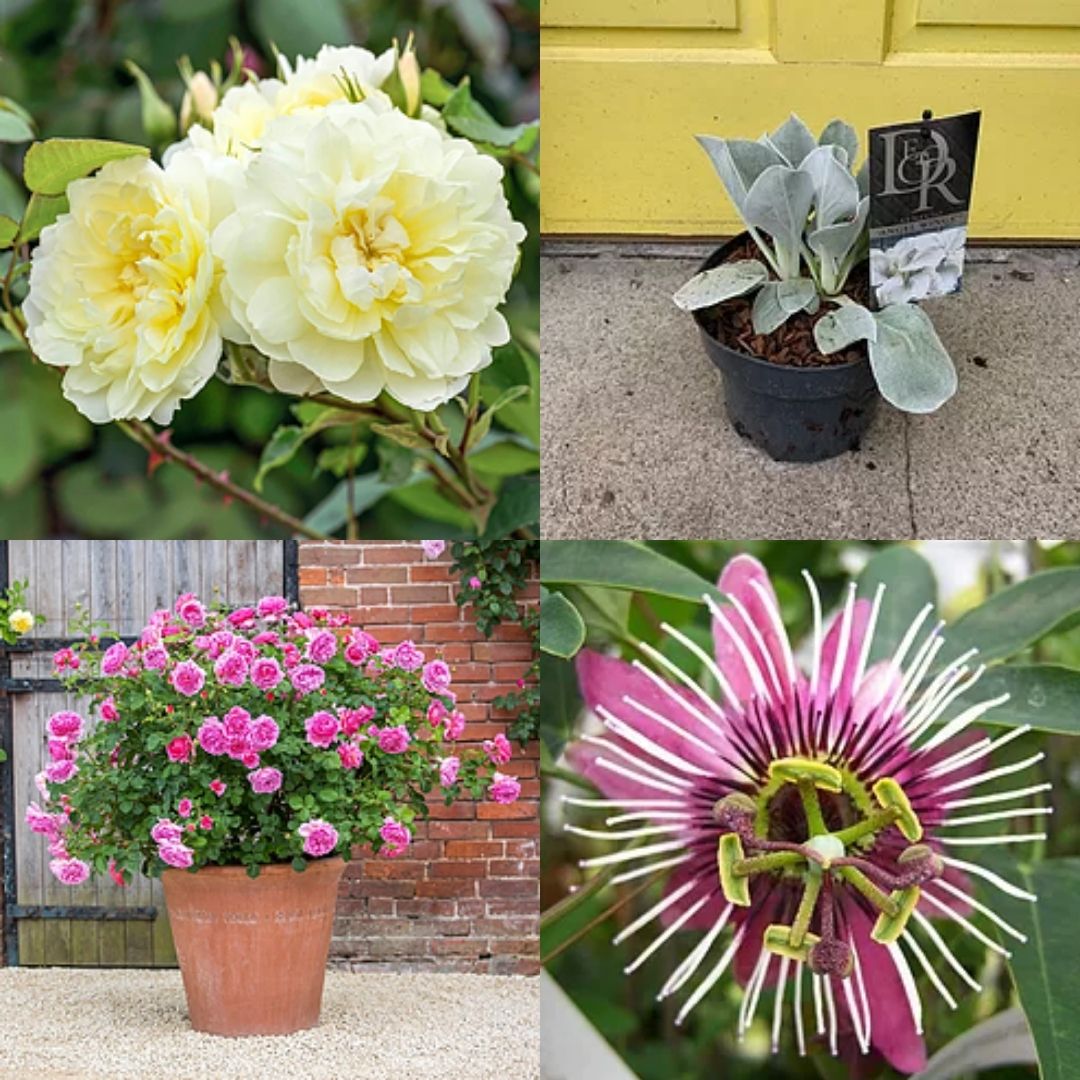 Garden of Edenmore stays true to its name because not only do they offer fresh flowers of various arrangements, but they also offer a wide array of planting supplies.
This shop also caters to those who are looking for flowers for different occasions may it be for gifts, wedding arrangements as well as sympathy flowers. Garden of Edenmore is a one-stop-shop for giving and growing flowers.
WHAT PEOPLE LIKE
VARIETY OF THEMES. The best thing about Garden of Edenmore is that they offer a variety of flowers arrangements for different themes and occasions. They offer gift flowers such as bouquets and flower baskets, as well as sympathy flowers for your loved ones who have passed away. And for other events and themes, Garden of Edenmore is just one chat or call away to ask for the availability of flowers as well as customization.
PLANTING SEEDS AND SUPPLIES. Garden of Edenmore is named such a way for a reason; because they offer not only gift flowers but also plants, supplies and seeds! You can different flowers such as roses, spring bulbs and other kinds. Although these are not available for delivery, they are still available for pick-up.
PRODUCTS
Gift Flowers €25 – €50
Plant seeds and supplies €10 – €85
Sympathy flowers €25 – €150
DELIVERY AND PAYMENT
Delivery and payment details may be directly inquired at the shop.
7. BLOOMING AMAZING FLOWER COMPANY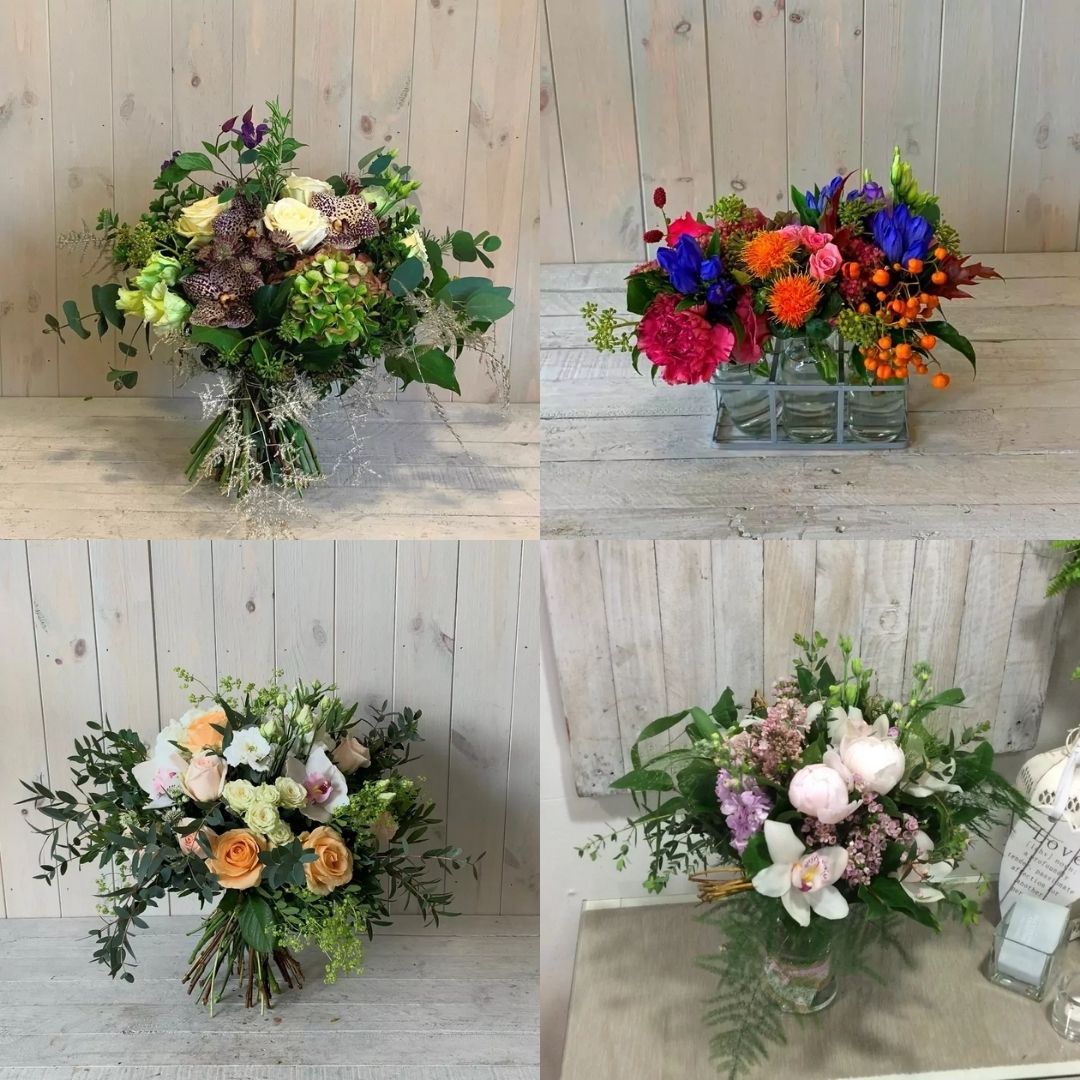 A flower arrangement is an art that Blooming Amazing Flower Company has already mastered. Owned by multi-award winning artisans, rest assure that you'll be receiving only the best bouquets from this shop.
Each order is handmade and hand-delivered, made with fresh cuts of blooms every season. They take the utmost of time and care to your blooms, so you'll definitely getting something worth the price.
SPECIALTY
Bespoke floral displays
SELECTION SIZE
Large
STARTING PRICE
Starts at €30
DELIVERY FEE
Delivery fee is calculated upon checking out
WEBSITE
https://www.bloomingamazing.ie/
SOCIAL MEDIA
CONTACT DETAILS

Telephone: +353 1 491 0233

Email [email protected]
WHAT PEOPLE LIKE
Fast Delivery – Blooming Amazing offers fast and efficient delivery, sending out orders the same day or the very next day. You can order on their website no matter the time and they'll be happy to process it for you.
Wide Range of Gifts – Aside from gorgeous floral bouquets, Blooming Amazing also offers a wide variety of gift items to give to your loved ones! From hampers and plants to fine wine and handmade chocolate, it's a one-stop shop for any occasion you might need a present for.
PRODUCTS
sumptuous hampers
specimen plants
fine wines
hand-made chocolates
flower arrangements
hand-tied bouquets.
DELIVERY AND PAYMENT
VISA, PayPal, GPay, AMEX, MasterCard, Stripe, ApplePay
8.      BEST BUDS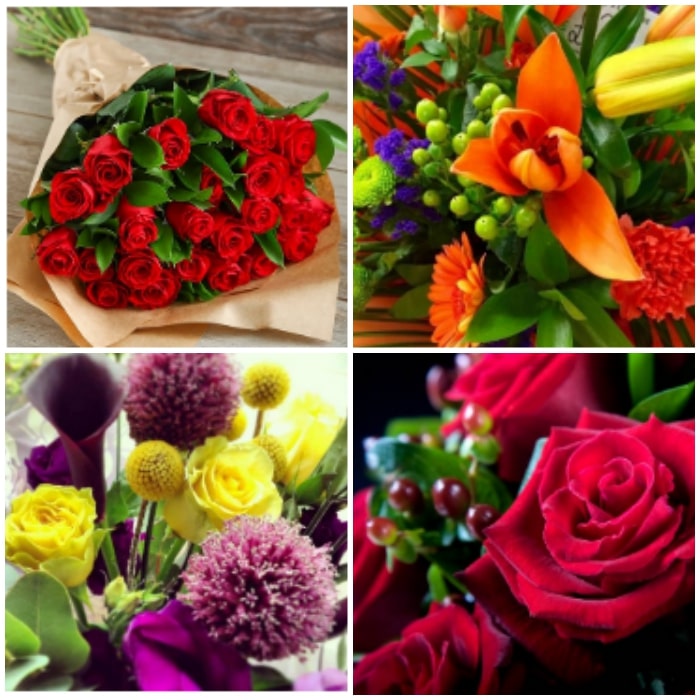 Do you need fresh bouquets for Mother's day? Maybe a big basket of lilies as a decoration for your office setup? Centerpieces for your corporate event? Or a bridal bouquet for your upcoming wedding? Don't worry, you can get all of those with the help of Best Buds. They have a large inventory of fresh flowers that you could freely choose from. Surely, you will never run out of ideas for floral designs.
WHAT PEOPLE LIKE
BUDGET-FRIENDLY SELECTION OF FLOWERS. 

With experienced florists on their backs and their own courier service at hand, this company created a large catalog of flowers for every occasion. By doing so they were able to provide quality flowers at low prices!

FRESH FLOWERS GUARANTEED.

 The company's quality assurance is at high regard. They continuously perfect their whole system to be able to guarantee high-quality goods. Their regular deliveries pushed them to invest in top technologies for their cut flowers.
PRODUCTS
DELIVERY AND PAYMENT
Delivery starts at €5