London is one of the cities that many people dream of coming to. It is a place that is oozing with class and pizzazz. But one thing that this city is also proud of is their collection of fresh fruits. With this, many gift and local shops offer fruit baskets that are composed of mixed fresh fruits perfect as gifts or as an everyday snack to keep your body and mind healthy. Here are some of your best options.
1.      LUXURY FRUIT BASKETS

Luxury Fruit Baskets is a family-run business that has been operating for almost 60 years now.
The shop only includes fresh and locally grown fruits in their fruit baskets you will be ensured that the fruits that you are eating are really healthy and of high quality.
The shop does not only aim to deliver premium quality fruits but they also want to keep them always presentable so they package them very nicely and securely.
WHAT PEOPLE LIKE
DEDICATED TEAM. The team of Luxury Fruit Baskets is composed of truly dedicated and highly accommodating people that provide good service to all of their beloved customers. They always make sure that they get the best that they deserve and that they have a good experience with them.
DELICIOUS PRODUCTS. Aside from the fact that the shop provides fresh fruits, they also offer other gift baskets such as chocolate hampers that are equally delicious as the fruits.
LOCALLY SOURCED GOODS. Luxury Fruit Baskets assure quality goods by sourcing from local markets. They only use the freshest and the juiciest fruits they can so the experience would surely be enjoyable. Have them meet your expectations on high-quality fruits and goodies, order from Luxury Fruit Baskets.
PRODUCTS
Classic Fruit Basket –  £29 to  £55
Get Well Fruit Basket –  £34 to  £55
Thank You Fruit Basket –  £29 to  £65
DELIVERY AND PAYMENT
VISA, Master Card, American Express, World Pay, Rapid SSL
2.      FRUITY GIFT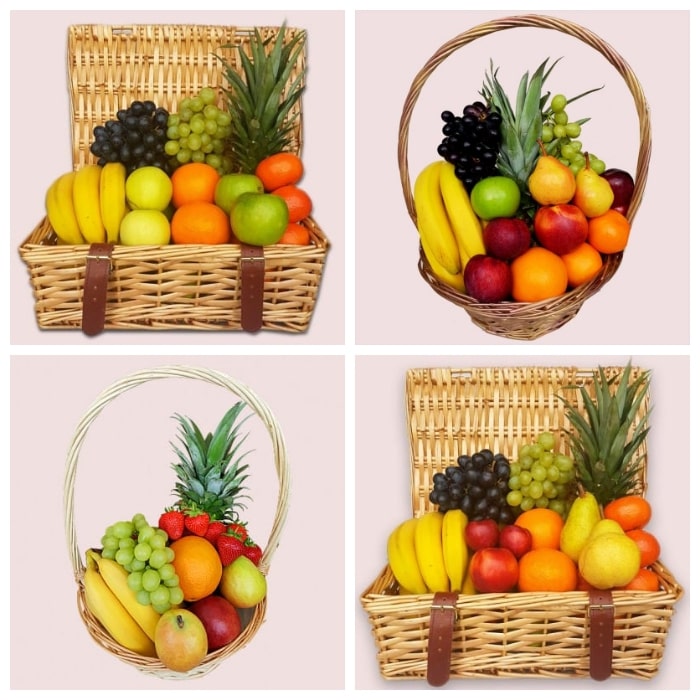 Fruity Gift was established in 2006 and since then they have been known as one of the providers of best quality fruits in London. Not only that, they also make a name in the industry of cake and chocolate services. They combined all these products and was able to come up with the idea of chocolate-dipped fruits and edible fruit arrangements. Truly enough, you will be in awe once you get to taste their fruity products.
WHAT PEOPLE LIKE
PRODUCTS BEST AS GIFTS. Because of the way the shop packages their fruit products, their clients keep on placing their orders to the shop and use these items as gifts more than just a sole consumable food. They even use elegant ribbons and cellophanes to complete the whole look.
PRODUCTS
Fruit Hampers – £31 to £70
DELIVERY AND PAYMENT
Visa, Mastercard, American Express, Discover, PayPal
3.      BASKETS GALORE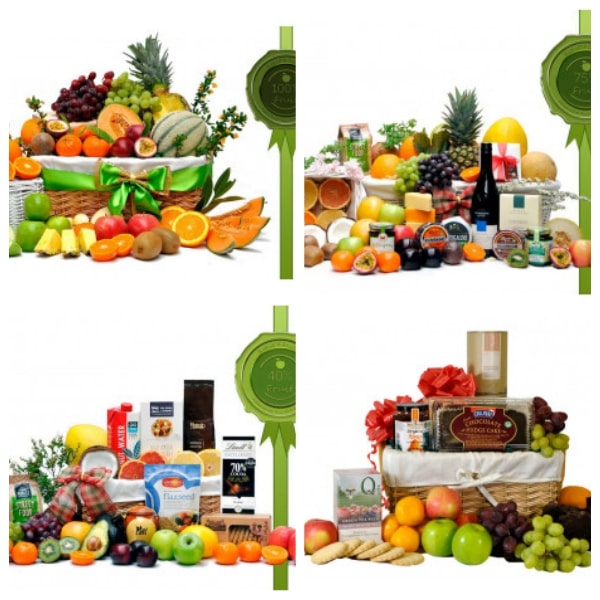 Baskets Galore is a lot bigger than you think. The shop does not only serve the area of London, but they even go nationally. The whole UK is the client of Baskets Galore that is why they always make sure to step up their game and offer only the best and highest quality of products especially fruit items.
WHAT PEOPLE LIKE
PREMIUM QUALITY PRODUCTS. The shop is applauded by all of their clients because they managed to maintain a high standard when it comes to the quality of the food products that are coming in and out of their shop.
GOOD DELIVERY SERVICE. Because the shop wants to go the extra mile when it comes to providing products and services to their beloved clients, they make sure that they cover not only one part of the country but the whole of United Kingdom.
PRODUCTS
Fruit Basket – £39 to £145
DELIVERY AND PAYMENT
Visa, Mastercard, PayPal, American Express, Sage Pay, Trustwave, Reviews
4.      HAMPER GIFTS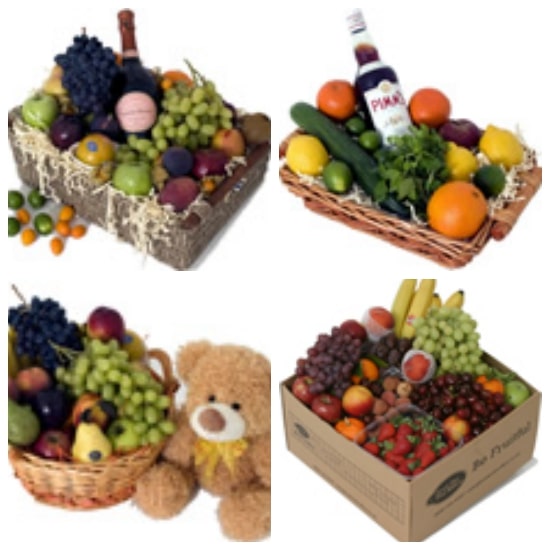 Hamper Gifts is an independent, family-owned business that was established in 2005. The shop creates gift baskets full of scrumptious food and drinks. One of these is their fruit baskets that are guaranteed to be always fresh and healthy. All of their gift hampers are available all year round and they are available to deliver not only in London but in the whole UK.
WHAT PEOPLE LIKE
 NATIONWIDE DELIVERY. The shop provides excellent services not only in the area of London but in the whole country. Since its establishment, the shop never fails to offer high quality products that is why they were able to gain clients in and out of London.
CORPORATE DISCOUNTS. The more, the merrier, right? So, what are you waiting for? Avail the fruit baskets offered by Hamper Gifts and have them tasted by the whole company! You will even get bigger discounts.
PRODUCTS
Get Well Soon – £40 to £150
DELIVERY AND PAYMENT
Mastercard, Visa, Maestro, American Express
5.      FRUIT FOR THE OFFICE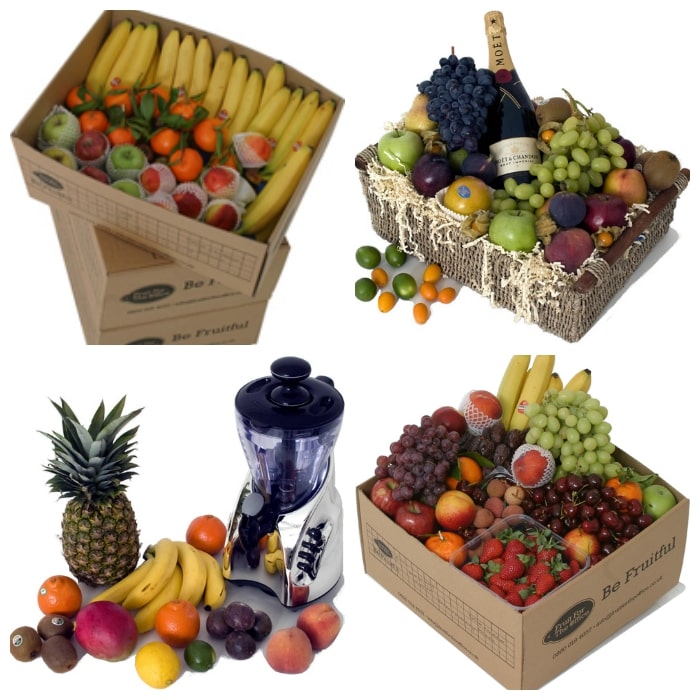 Fruit For the Office has been in the industry for a century now and they even serve their fresh fruits before from traditional barrows. Now that the business is getting more and more competitive each day, the shop has also stepped up its game. They now accept orders online for faster and easier transaction, but they guarantee that the quality of their products remain to be always premium.
| | |
| --- | --- |
| SPECIALTY | Fruit baskets and chopped fruit packs |
| SELECTION SIZE | Large |
| STARTING PRICE | Starts at £24 |
| DELIVERY FEE | Calculated at checkout |
| WEBSITE | https://www.fruitfortheoffice.co.uk |
| SOCIAL MEDIA |   |
| CONTACT DETAILS | 0800 019 4037 |
WHAT PEOPLE LIKE
FREE DELIVERY. A basket of fresh fruits, delivered to you for free? Pretty good deal, right? Just make sure that you check the website of the shop because they are following a schedule to when and where they offer free delivery services.
LARGE COLLECTION. Whether you want freshly picked fruits joined together in a basket or fresh chopped ones for your on-the-go experience, the shop has it all for you. Just choose the kind of fruit package you want and they will gladly deliver it for you.
PRODUCTS
Gift Baskets – £24 to £100
DELIVERY AND PAYMENT
Mastercard, Visa, American Express, Discover
6.      FRUIT 4 LONDON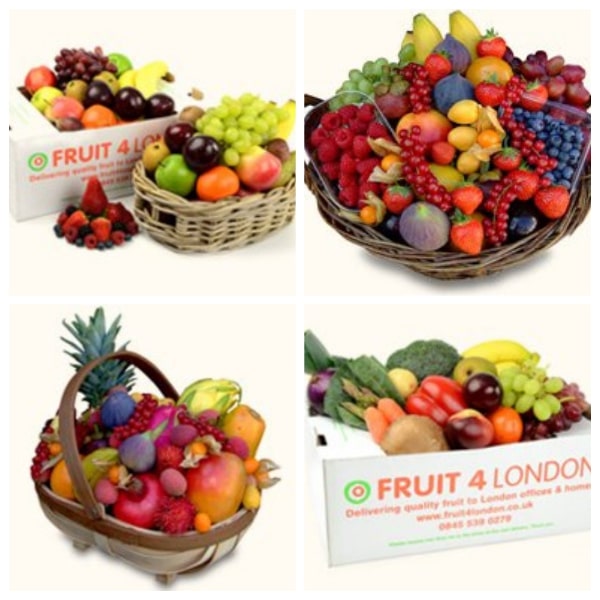 In May 2008, two professionals with experience in the fruit niche and at the same time both having passions in cycling decided to put up a business that will offer high quality of fresh fruit baskets in the entire city of London. With their heart to provide fresh and healthy fruit products, the shop was able to successfully get its first client and until today many people in London avail and trust their services.
WHAT PEOPLE LIKE
NEXT DAY DELIVERY. Can't get enough of the shop's fresh and sweet collection of fruits? Don't worry because despite getting hundreds of orders everyday, they still get to guarantee next day delivery so you won't have to wait any longer for your fruits to be delivered.
EXTENSIVE COLLECTION. Not only the shop offers fruits and veggies, but they also provide other healthy snacks such as nuts, milk, coffee beans, bread etc. to complete your healthy food package.
PRODUCTS
Gift Baskets
Fruits and Vegetable Baskets
Dried Fruit Baskets
DELIVERY AND PAYMENT
Home and office delivery in Central London is free. For other areas, please visit their website.
7.      GO GO FRUIT BASKET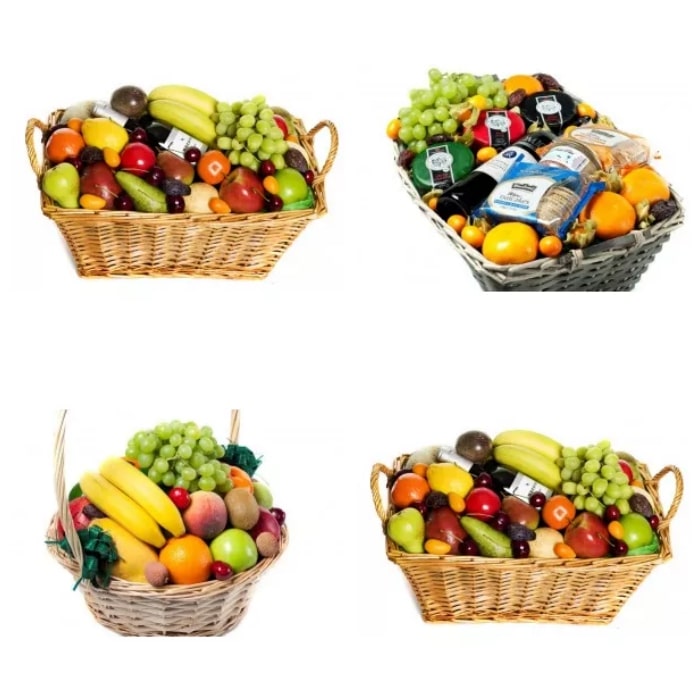 In 1984, Go Go Fruit Basket started as a local simple fruit and vegetable shop. Over the years, they have established their business in the industry and eventually gained more customers that regularly orders and have their fruits delivered to their homes and offices. Due to the unending support of their loyal customers and their skilled staff, the shop is able to expand its collection and even get to sell exotic fruits.
| | |
| --- | --- |
| SPECIALTY | Exotic fruits |
| SELECTION SIZE | Large |
| STARTING PRICE | Starts at £29 |
| DELIVERY FEE | Calculated at checkout |
| WEBSITE | https://www.gogofruitbasket.com/ |
| SOCIAL MEDIA |   |
| CONTACT DETAILS | 0845 644 0696 |
WHAT PEOPLE LIKE
FREE SHIPPING. The shop does not only offer high quality of fruit baskets and other food products, but they also offer delivery services free of charge. To know what areas are covered by this benefit, just visit their website.
PRODUCTS
Get Well Soon Hampers – £29 to £60
DELIVERY AND PAYMENT
Mastercard, Visa, JCB, Maestro, PayPal, American Express
8.      SMART GIFT SOLUTIONS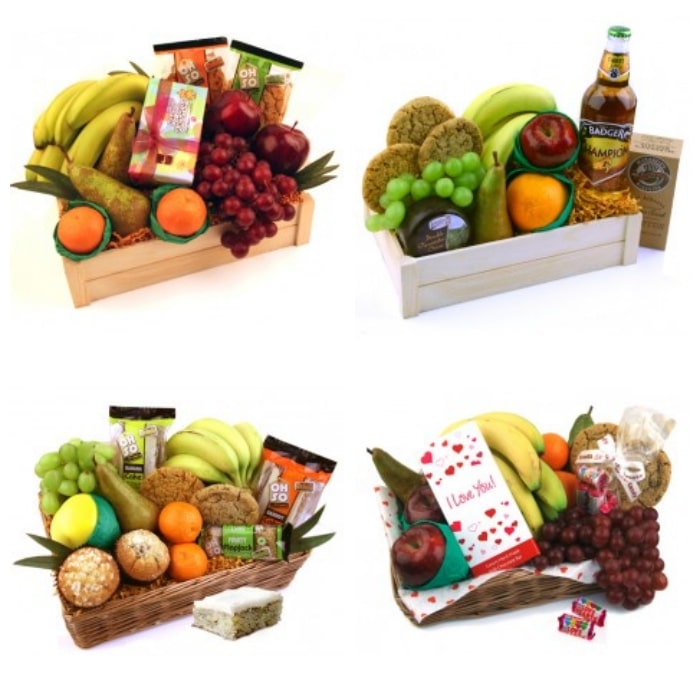 Deborah and Lee Carpenter founded Smart Gift Solutions in the year 2000. They are passionate about delivering happiness through their fruit baskets. The shop also understands the importance of personal touches in every order that they make that is why they make an effort to personalize each and every fruit basket that they create.
WHAT PEOPLE LIKE
PERSONALIZED BASKETS. The wants every single order that they make to be personalized and have personal touches both from them and from the sender so with their best effort, they try and customize these fresh fruit baskets and then delivery them in best condition.
PRODUCTS
Fruit Baskets – £25 to £48
DELIVERY AND PAYMENT
Visa, Mastercard, Maestro, PayPal, Visa, American Express
9.      FRUITY GIFT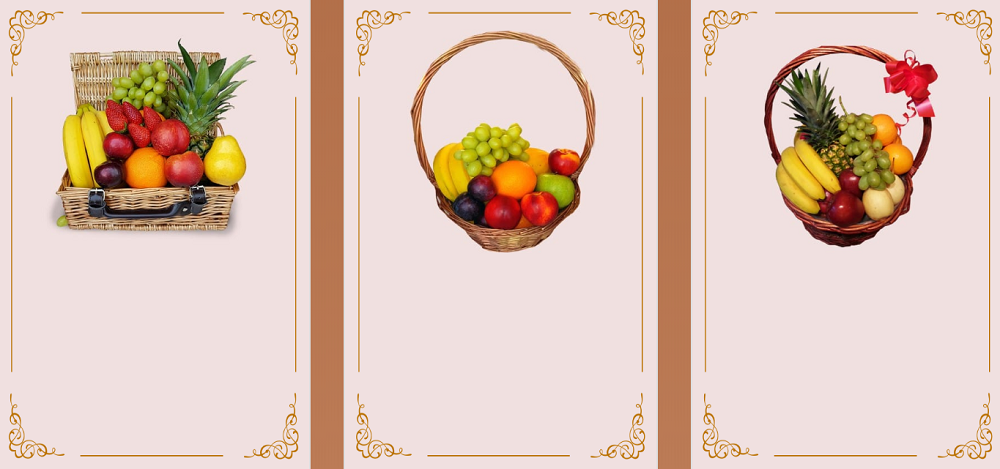 Fruity Gift is a shop located in London that specialises in all things gift-related. Notably, fruit hampers. Their moderate selection of fruits features, well, an assortment of the freshest of fruits, chips, tea, coffee, and even chocolate depending on the option that you choose. 
As the shop continues to grow, they have expanded their selection to include other items, like flowers and sweets. 
SPECIALTY
Fruit hampers
SELECTION SIZE
Moderate
STARTING PRICE
Starts at £30
DELIVERY FEE
Calculated upon checkout
WEBSITE
https://www.fruitygift.co.uk/
SOCIAL MEDIA

https://www.facebook.com/FruityGiftUK/?fref=ts

https://www.instagram.com/fruitygiftuk/?ref=badge

CONTACT DETAILS
[email protected] | 020 3617 1051
WHAT PEOPLE LIKE
GIFT OPTIONS. Fruity Gift knows full well how powerful gifts are when it comes to making occasions feel more special. Which is why they have gradually incorporated other items on their catalogue to accompany your fruit hampers. There are flowers for that extra vibrancy and chocolates to add a little sweetness to your gift.
PRODUCTS
Fruit Hampers
Flower Bouquets
Chocolates
DELIVERY AND PAYMENT
The shop accepts Major Credit Cards, PayPal, and Discover. cause th