ho said you need to break the bank for quality flowers? These Malaysian florists can definitely fix you beautiful bouquets at the right price! Send flowers to Malaysia without worrying about your budget and just pick the perfect bouquet for that special someone. We already compiled all the best florists here so just sit back, relax and shop now!
1. PS FLORAL ATELIER
PS Floral Atelier is a custom design studio full of original flower arrangements. Each bouquet is made with artistic vision and expert technique by their local veteran florists. Browsing their catalog, you won't be seeing bouquets that you would normally see in other flower shops. They even go as far as using elements not traditionally used in flower arrangements like cotton. By doing so, each item ends up having a very handmade and rustic vibe. Read more to know more about their creations!
SPECIALTY
Palm-sized Bouquets
SELECTION SIZE
Moderate
STARTING PRICE
9.90 RM
DELIVERY FEE
Calculated upon checkout
WEBSITE
https://www.psfloralatelier.com/
SOCIAL MEDIA
Facebook: /psfloralatelier/
Instagram: @psfloralatelier
CONTACT DETAILS
[email protected] +6017-750 6095/ +65 9069 2940
WHAT PEOPLE LIKE
CHARMING FLORAL CONCOCTIONS. While most companies try to outdo one another by creating bigger and bigger bouquets, this flower shop chooses to charm you with their palm-sized bundles. P.S Floral Atelier uses fresh and dried flowers to create these little masterpieces – each one having a rustic feel to it. We especially like the 'Dreamy Cotton Flower Bouquet'. It's just so cute!
AFFORDABLE BOUQUETS. Though the company houses a moderately sized catalog, there are still affordable items in every collection. Check out their single stalk bouquets which are both stunning and budget-friendly.
FLORAL DECORATIONS. This company is not only killing at the flower delivery game, they're also acing at the floral decoration industry as well. Consult with their professional florists to make your wedding day flowers and décor one of a kind!
PRODUCTS
TULIPS BLOOM FLOWER BOUQUET: 380.00 RM
THANK YOU MUM FLOWER BOUQUET: 90.00 RM
BRIGHTEN UP FLOWER BOUQUET: 160.00RM
CARNATION (SINGLE STALK): 9.90 RM
RED ROSE VS BABY BREATH FLOWER BOUQUET: 160.00 RM
HEART-SHAPED FRESH ROSE FLOWER BOUQUET: 280.00 RM
DREAMY COTTON FLOWER BOUQUET (PALM SIZE): 50.00 RM
DELIVERY & PAYMENT
Delivery details and payment options are available upon checkout.
2. PURPLE ROSE FLORIST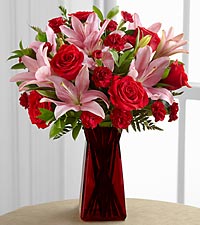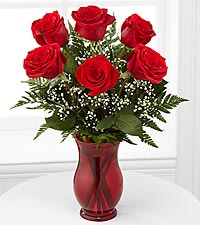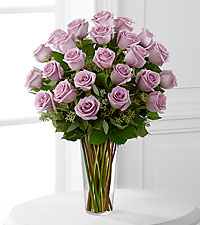 Purple Rose Florist is a premium flower provider praised for creating stunningly beautiful flower arrangements perfect for all occasions. Their flowers are guaranteed to be consistently fresh and best in quality as they directly source them in wholesale from their trusted suppliers.
They specialize in floral decoration for home, workplace, weddings, events and more. You will find a wide selection of unique creations, which are made with artificial or fresh-cut flowers here.
They also offer custom-made flowers for special occasions and events. Just make sure to communicate with the team exactly how you want your orders to be designed. 
| | |
| --- | --- |
| SPECIALTY | Fresh silk flowers |
| SELECTION SIZE | Large |
| STARTING PRICE | Contact shop for pricelist |
| DELIVERY FEE | Calculated at checkout |
| WEBSITE | |
| SOCIAL MEDIA | |
| CONTACT DETAILS | 60127216860/6073006860 | [email protected] |
WHAT PEOPLE LIKE
LARGE SELECTION.

The shop prides itself with their full range of flower types and arrangements, suited perfectly for all kinds of occasions. Whether it is for a casual date, or a special occasion, Purple Rose Flowers guarantees to provide you with their best selection.

CUSTOM-MADE ORDERS.

Unleash your creativity and have your favorite blooms be designed exactly the way you want to by availing the shop's customized flower arrangements.
PRODUCTS
FRESH/SILK FLOWERS
WEDDING FLOWERS
EVENT DECORATIONS
FUNERAL FLOWERS
DELIVERY AND PAYMENT
Contact the shop for delivery and payment details.
3.  XIN FLORIST & GIFTS CENTRE
Xin Florist & Gifts Centre is a family-owned business situated at Johor Bahru that offers exceptional customer service and satisfying floristry experience. They provide a wide range of creatively packaged flowers and stunning floral arrangements – coupled with romantic knick-knacks.
SPECIALTY
Quality Selections at Affordable Prices
SELECTION SIZE
Large
STARTING PRICE
RM 108
DELIVERY FEE
Available upon checkout
WEBSITE
https://xinflorist.com/
SOCIAL MEDIA
Instagram: @xinflorist.com_ Facebook: /xinflorist.com188/
CONTACT DETAILS
[email protected]
607-353 3188 / 607-353 3931
WHAT PEOPLE LIKE
WHOLESALE OPTIONS. If you're looking for something to buy that would surely be worth your money, why not try this company's wholesale option? Buy exclusive fresh cut-flowers at the lowest price!
HIGH-QUALITY FLOWERS AT AFFORDABLE PRICE. At Xin Florist & Gifts Centre, they believe in honest prices without compromising the quality. The attention to details is seen not only on the quality and quantity of flowers in each bouquet but also on the high-quality wrappers that they use. All for a low price.
FAST, RELIABLE & FREE SAME DAY DELIVERY. This company provides free same-day flower delivery in Johor Bahru. Express delivery within 3 hours!
PRODUCTS
BLOSSOM ROSE: From RM 108
LOVELY TULIP & LILY: From RM 140
MIX ROMANTIC FLOWER: From RM 130
SUNFLOWER & DAISY: From RM 108
99 GIANT FOREVER: From RM 500
DELIVERY & PAYMENT
Orders should be received & confirmed before 1 pm (GMT +8.00), in order to be delivered on the same day before 5 pm. They accept major credit cards, PayPal and bank transfer.
4. BLOOM THIS
Surprise someone today with handcrafted designer flowers in lux boxes by BloomThis.  Impress everyone with their selection of bouquets rich with elegant designs. No worries though, these impressive creations will not empty your wallet.
SPECIALTY
Elegant Box Bouquets
SELECTION SIZE
Large
STARTING PRICE
From RM 99
DELIVERY FEE
From RM15
WEBSITE
https://bloomthis.co/
SOCIAL MEDIA
Instagram: @bloomthis
Facebook: /bloomthis
CONTACT DETAILS
Email: 

[email protected]

Tel: +60126890215
WHAT PEOPLE LIKE
ELEGANT BOX BOUQUETS. Known for their elegant boxes, BloomThis created a signature look that ultimately put them on the map as the go-to flower shop in Malaysia. The simplicity of the box together with the stunning flower arrangement created a gift radiating effortless beauty.
MOTHER'S DAY FLOWER COLLECTION. This dedicated flower collection created for Moms everywhere is a wonderful gift idea that would surely be appreciated. This collection includes traditional bouquets, eternal flowers, and box bouquets. Choose any item in this collection 'cause every product is perfect!
PRODUCTS
ELEGANT MOTHER'S DAY FLOWERS & GIFTS: From RM139
DESIGNER FLOWER BOUQUETS & FLOWER BOXES: From RM 99
ETERNITY: EVERLASTING PRESERVED ROSES: RM149
PEONY FLOWERS: From RM229
DELIVERY & PAYMENT
Their standard delivery services are completed between 10 am – 6 pm. Expect delivery to come a day after you ordered. Check this list for locations with free shipping. For payment, major credit cards are accepted.
5.TINY TIMES FLORIST
Tiny Times Florists houses hundreds of different flower arrangements ranging from bouquets, to basket arrangements, even as huge as flower stands and wedding flowers. 
The shop always makes sure that they provide premium quality flower products that will not only paint a smile on the recipient's face but can also light up and make a room more vibrant.
WHAT PEOPLE LIKE
BEAUTIFULLY DESIGNED FLOWERS.

If you browse through the selection of Tiny Times Florist, you will be greeted with their stunning and absolutely beautiful flower arrangements, most particularly their huge wrapped bouquets that are guaranteed to be made out of the freshest and finest flowers.

WIDE RANGE OF SELECTION.

The shop makes sure that they can attend to all your flower needs so they see to it that they consistently fill up with collection with unique and fresh flower arrangements so you will have plenty of options to choose from.
PRODUCTS
FRESH FLOWER BOUQUETS
DRIED FLOWER BOUQUETS
FLOWER STANDS
BOX ARRANGEMENTS
WEDDING FLOWERS
DELIVERY AND PAYMENT
Delivery is free within Johor Bahru. Meanwhile. You may contact the shop for details on payment methods.
6. FREELAND FLORAL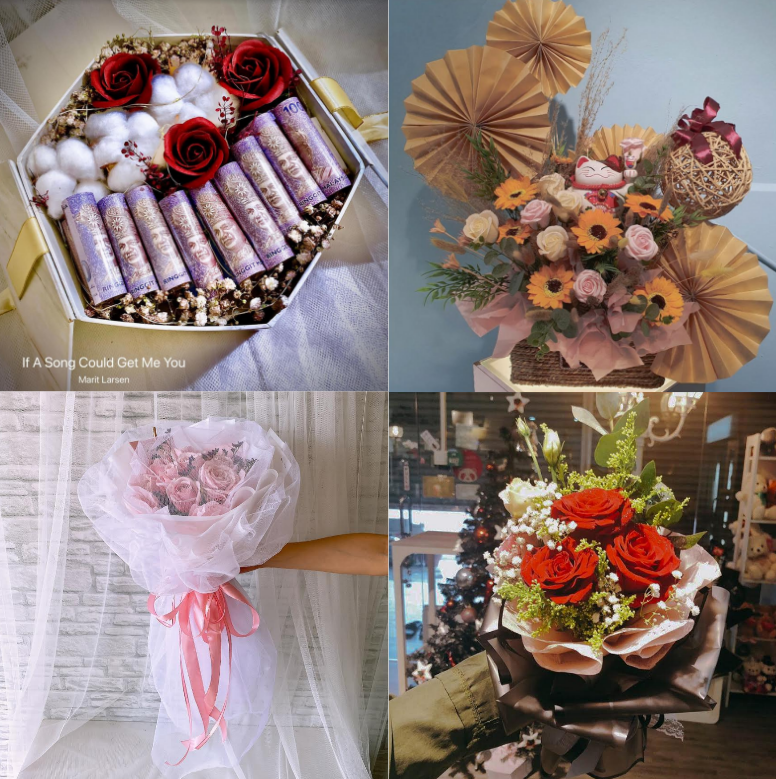 Whether it is good old fashion bouquets or modern-design flower baskets, Freeland Floral has it all for you. You can pick the most suitable style for you or to give to your love ones from their website or social media pages. Even if there's none, you can always send in designs you see and discuss how you would like to create your own custom arrangements! Nothing express love and support more than arranging surprises with your own twists added!
There's more than one way you can contact Freeland Floral too! Whether it's through Whatsapp, Facebook, or even Pandamart (in the FoodPanda app), Freeland Floral will be glad to help you with your flowery needs. No plans to place an order yet? Just follow their Facebook page to look at some memes and product posts to brighten up your day!
PRODUCTS & SERVICES

Bridal Bouquet, Corsage, Hand Bouquet, Flower Basket, Bear & Chocolate, Fruit Basket, Table Arrangement, Wedding, Grand Opening, Condolence Wreath

PRICING

Listed in Website / Confirm at checkout for custom bouquet

DELIVERY FEE

Calculated at checkout based on distance

WEBSITE

http://www.freeland.com.my
https://www.foodpanda.my/shop/s2sn/freeland-floral#category/490ef57b-6147-413c-acf9-342334551491/products

CONTACT DETAILS

+607-238-5800
+60 16-623 3696
https://www.facebook.com/freelandfloral/
https://www.instagram.com/freeland_floral2u/

PAYMENT METHODS

Visa, Mastercard, Maybank, Bank transfers, PayPal,
E-wallet (Boost & Touch n Go)

WHAT PEOPLE LIKE
GOOD SERVICE. 

The shop receives really good reviews from their clients not only because of their high quality products but also their good communication and relationship with their clients.



VALUE FOR MONEY. 

Freeland Floral shows their appreciation to their clients by providing premium quality products that truly shows the true value of your money.
PRODUCTS
WRAPPED BOUQUETS
BOX ARRANGEMENTS
HAND BOUQUETS
CORSAGES
GRAND OPENING STANDS
SYMPATHY FLOWERS
TABLE ARRANGEMENTS
DELIVERY AND PAYMENT
Payments can be made through PayPal, Visa, Mastercard, Maybank, E-wallet (Boost & Touch n Go)

7. STICKYD.MY EXCLUSIVE FLORIST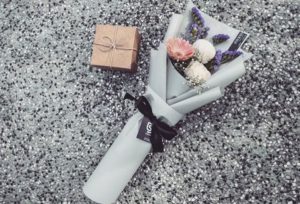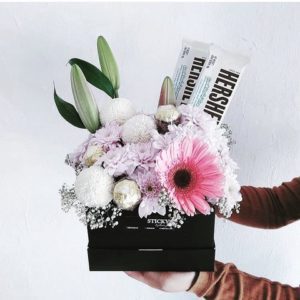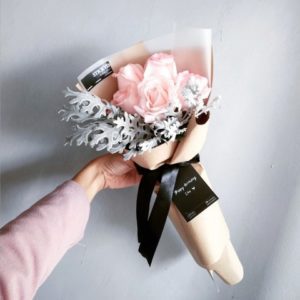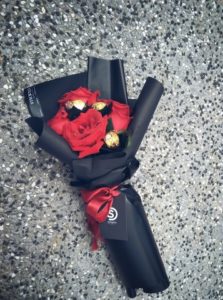 Stickyd.my has everything you need to surprise your significant other. They have romantic flower arrangements to accompany your intimate candle-lit dinner, opulent hand bouquets for Valentine's Day and anniversaries, even affordable bunches for the budget-conscious. 
Plus, they incorporate delicious desserts in some of their bouquets and arrangements for extra indulgence. Their floral designs are simple and sleek suitable for all occasions.
| | |
| --- | --- |
| SPECIALTY | Elegant wrapped bouquets |
| SELECTION SIZE | Large |
| STARTING PRICE | From RM 65 |
| DELIVERY FEE | Calculated at checkout |
| WEBSITE | |
| SOCIAL MEDIA | |
| CONTACT DETAILS | +60 14 311 6996 | [email protected] |
WHAT PEOPLE LIKE
ROOM DECORATIONS.

The shop level up their game in the business of flower arrangements and delivery as they do not only design traditional ones, but they also offer to decorate rooms for romantic surprises or any kind of parties. Their creative team makes sure to make the space as colorful and as vibrant as their flower products.

EXTENSIVE ADD-ONS.

Make your orders a whole gift package by availing their add-ons such as cakes, balloons, and chocolates, which would be perfect for any kind of flower arrangement that you may choose.
PRODUCTS
WRAPPED BOUQUETS
CHOCOLATE BOUQUETS
BALLOON ARRANGEMENTS
FLOWER AND CHOCOLATE BOXES
DELIVERY AND PAYMENT
Delivery runs daily from 11am-6pm.

8. MAPLE FLORIST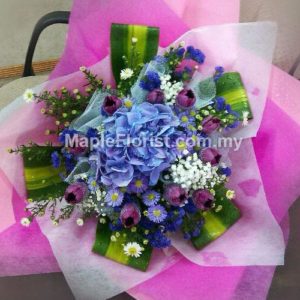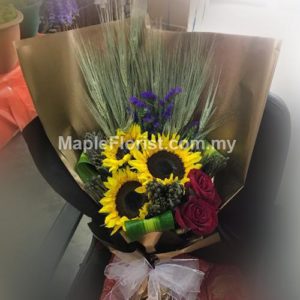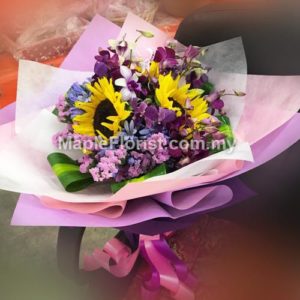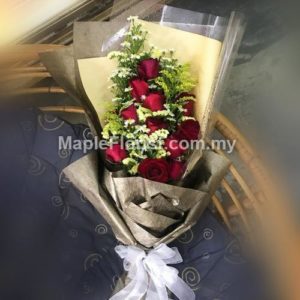 Maple Florist is committed to bringing you the finest and most stunning flower arrangements and making flower delivery even easier and smoother for you. All you have to do is select the floral arrangement that you desire and their team will happily send them to the recipient in the best condition.
They also offer same day delivery, should you wish to surprise someone with some fresh flower bunches.
| | |
| --- | --- |
| SPECIALTY | Quality Selections at Affordable Prices |
| SELECTION SIZE | Moderate |
| STARTING PRICE | RM 135 |
| DELIVERY FEE | Available upon checkout |
| WEBSITE | |
| SOCIAL MEDIA | Instagram: /mapleflorist.com.my  Facebook: /maplefloristjohorbahru/ |
| CONTACT DETAILS | 60177682347 / 607-331 9611 |
WHAT PEOPLE LIKE
RELIABLE DELIVERY.

One of the prides of Maple Florist is their ability to handle orders no matter how huge in volume. They can promise that their delivery services are efficient and reliably fast, making sure that they will arrive on the agreed time and date.

FRESH FLOWERS.

The quality of flowers is the most important part of their business. Afterall, no one wants a withered one. You can also trust they consistently create uniquely beautiful arrangements for any occasion.
PRODUCTS
FLOWERS BOUQUET
CONGRATULATIONS FLOWERS
CONDOLENCES FLOWERS
BIRTHDAY CAK
GEL WELL SOON BASKET
HAMPERS
DELIVERY & PAYMENT
Delivery is free for certain areas in Johor Bahru. Same day delivery is possible if you place your order before 3:00 PM on the same day. Payment is accepted: Bank transfer, Credit card, PayPal
9. MAZZO DI FIORE

The team at Mazzo di Fiore is comprised of the most talented individuals in the Floristry industry, each with an extensive background that has led them to winning competitions that are even on an international level. Combine this with a great selection of the best blooms, and you won't be disappointed if you trust them for your floral needs. 
SPECIALTY

Flowers for him and her

SELECTION SIZE

Large

STARTING PRICE

RM 60

DELIVERY FEE

Calculated upon check out

WEBSITE

SOCIAL MEDIA

Instagram : mazzo.com.my
Fb : Mazzo Di Fiore

CONTACT DETAILS

+607-513 6612 OR +6018-777 5562
WHAT PEOPLE LIKE
FLORAL COURSE. If you're interested in the intricacies of Floristry, then you'll be glad to know that Mazzo di Fiore can aid you in your endeavour to learn. They offer Floristry classes that differ in degree, so even beginners can gradually catch up to those who have a little background on flowers.
FLORAL VARIETY. With how large the catalogue is at Mazzo di Fiore, you'll surely find something that will suit both your taste and the occasion itself. The selection boasts diversity, from regular flower bouquets, to stands, to even chocolate arrangements.
PRODUCTS
Flower bouquets and arrangements
Hampers
Wedding flowers
Sympathy flowers
DELIVERY & PAYMENT
The shop accepts VISA and Mastercard for payments. 
10. WEISS2U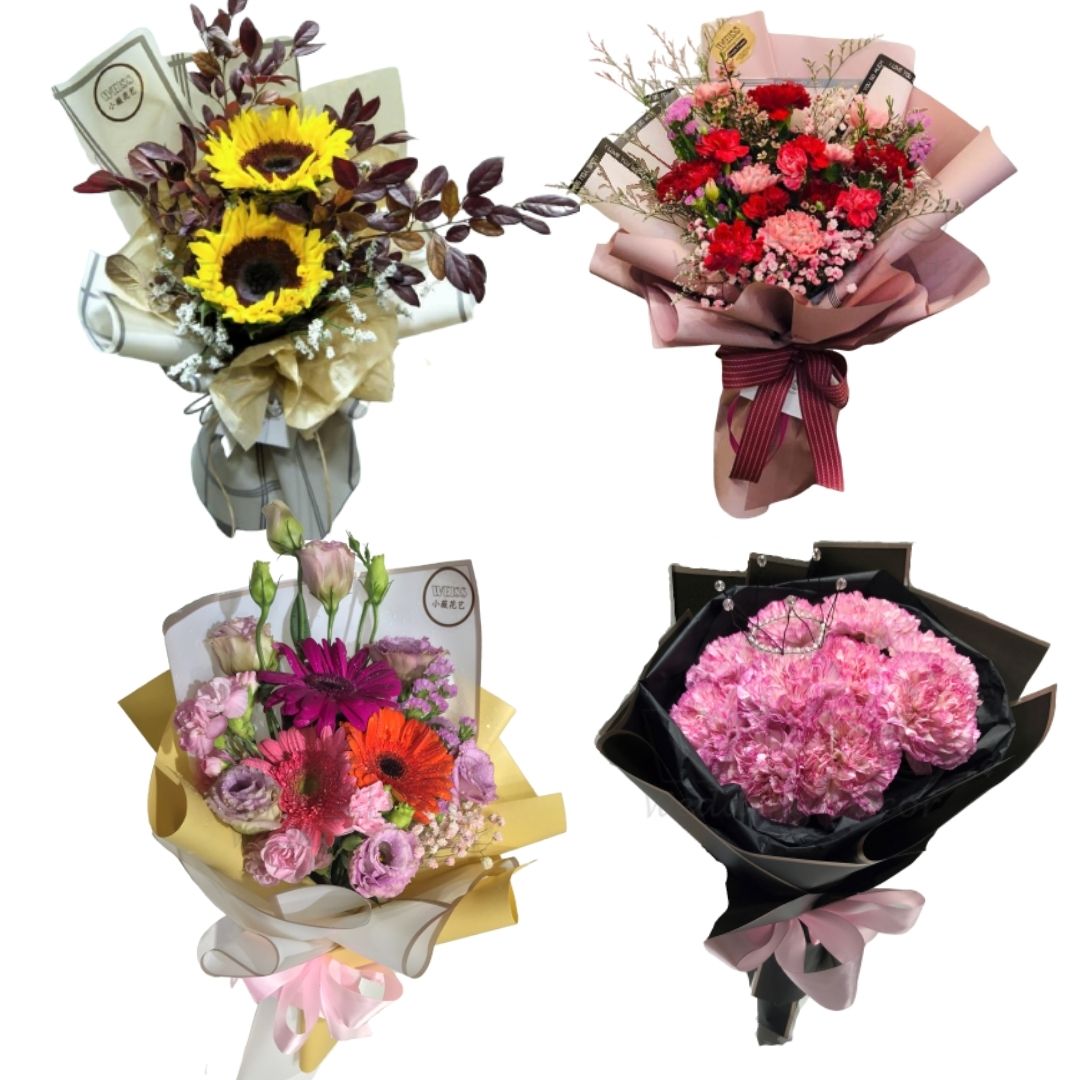 Weiss2U is a flower shop that definitely caters to each of their customers personally. They always make sure to design and create arrangements worthy to be displayed, quality and freshness are always assured. In their hands, your money will surely not go to waste.
Let them handle your orders, head to their website and add to cart!
WHAT PEOPLE LIKE
CUSTOMIZED DESIGNS. If you feel like your desired arrangement isn't fully in the listed designs, then you can have Weiss2U's amazing florists to create one for you! Personalize your decoration for the blooms and let it be unique from the rest. Contact the shop for more information and coordinate with them for your order.
EVENT FLOWERS. Weiss2U is one of the best shops to consider if ever you're in need of event flowers as they do those and more! It doesn't matter if it's a wedding, or a funeral, or just a simple occasion in general, they can do the styling for you. Details are posted on the website and you can contact them for more inquiries.
PRODUCTS
Hand Bouquet
Fruit Baskets
Event Flowers
Wreath
Funeral Flowers
Bridal Bouquet
Wedding Flowers
DELIVERY & PAYMENT
VISA, MasterCard, PayPal, MayBank, OCBC Bank, PublicBank, Standard Chartered Bank
Images were taken from each company's official websites/social media.